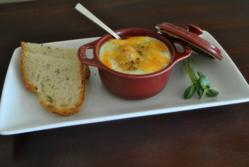 Cliff Walk Cottage on The Sea already has the best views and best location of any bed and breakfast in Newport. I'm making sure we add breakfast and hors d'oeuvres to our list of 'bests.'
Newport, Rhode Island (PRWEB) August 31, 2012
Perched on the Cliff Walk and directly on the Atlantic ocean, Cliff Walk Cottage on The Sea claims the best location of any bed and breakfast in Newport, Rhode Island. Cookbook author Charis Freiman-Mendel intends to make sure that the newly established waterfront guest house offers the best pre-dinner drinks and hors d'oeuvres and the best breakfast in Newport. Responding to requests from recent guests at the Cottage, Freiman-Mendel updated the breakfast menu to include eggs and now offers a signature American breakfast favorite, croissant nests stuffed with eggs, bacon and cheese.
Freiman-Mendel originally modeled breakfast at Cliff Walk Cottage on The Sea on "table d'hôte," the continental breakfast served at luxury lodgings in France and throughout the European continent. To satisfy guests at the Cottage, most of whom hail from the Northeastern United States and Canada, Freiman-Mendel just added a variety of egg dishes to the breakfast menu. Recent guests were served "eggs en cocotte," a baked egg dish inspired by an early morning meal Freiman-Mendel savored at a bed and breakfast in St.- Rémy-de-Provence. Organic eggs combine with artisanal cheese and market sourced, farm fresh herbs and vegetables to offer a palette-pleasing start to the day. Freiman-Mendel added smoked salmon to the dish to offer guests recently visiting from Sweden a taste of home. Weather permitting, breakfast is served on an outdoor dining patio overlooking the Cliff Walk and the Atlantic Ocean, with views to Martha's Vineyard. The indoor dining room has similar views and is the preferred venue during winter months.
Freiman-Mendel designed the menu for the pre-dinner drinks and hors d'oeuvres service at Cliff Walk Cottage on The Sea. The selection is based on appetizer recipes featured in her cookbook, Cook Your Way Through The S.A.T., including fig and olive tapenade on baked baguette, hummus with freshly baked pita chips, and pork buns. Freiman-Mendel recently served Lima Bean and Cilantro dip, a new recipe she modified from the Lima Bean and Cilantro Salad in Cook Your Way Through The S.A.T. As with breakfast, the pre-dinner hors d'oeuvres are prepared with the freshest organic, sustainable, seasonally available ingredients.
In addition to menu planning and food preparation for Cliff Walk Cottage on The Sea, Freiman-Mendel has been promoting Cook Your Way Through The S.A.T. She recently appeared on "In The Kitchen," the cooking segment of the "Connecticut Style" program, where she prepared Cacio E Pepe with host Teresa LaBarbera, a pasta dish she recommended as comfort food for students as they anxiously prepare to return to school in September.
Charis Freiman-Mendel invites visitors seeking a luxury bed and breakfast in Newport, Rhode Island to experience Cliff Walk Cottage on The Sea, noted for its fabulous location, fine dining and warm, attentive service. The newly updates dishes offered at the Cottage are a sampling of her recipes from Cook Your Way Through The S.A.T., a cookbook that pairs 99 recipes each with a "fun fact blurb," teaching standardized test vocabulary, that celebrates the joy of cooking and makes learning fun. Freiman-Mendel's cookbook is available through online booksellers and in local bookstores.