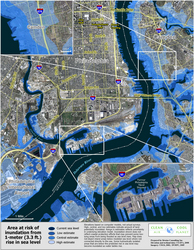 Our colleagues in the Arctic science community have uncovered startling new evidence that we are losing the world's ice reservoirs much faster than predicted in the last report by the Intergovernmental Panel on Climate Change
Portsmouth, NH (Vocus) October 22, 2009
New science from scientists just returned from the poles indicates that sea level rise of a meter or more is likely as a result of melting and "dynamic changes" in ice sheets in the Arctic and Antarctic, threatening coastal cities worldwide this century.
The U.S. East Coast is particularly vulnerable to the new higher estimates of sea-level rise, and Clean Air - Cool Planet (CA-CP), a non-profit focused exclusively on solving the global warming problem, is getting the word out.
Together with local organizations, CA-CP is hosting coastal community roundtables and outreach events in Philadelphia, PA; Portland, ME; Hampton, NH; Norfolk, VA; Wilmington, NC; and Miami, St. Petersburg, and Tampa, FL over the next two weeks.
The scientists' "Hip Boot Tour" will culminate in November with stops to be announced in New York City and Washington, DC.
Each event will feature presentations by scientists currently involved in snow-and-ice research at the poles, and who have contributed to new research to be released by the Arctic Council in conjunction with the Copenhagen climate talks this December.
"Our colleagues in the Arctic science community have uncovered startling new evidence that we are losing the world's ice reservoirs much faster than predicted in the last report by the Intergovernmental Panel on Climate Change," said Arctic policy expert Brooks Yeager of CA-CP. "Basically, the estimates of likely sea-level rise have gone from knee-high to chest-high in the last five years, as the melting is outstripping even the previous worst-case scenario."
Yeager noted that new and more accurate science – revealing more rapid changes in the polar regions – is responsible for the new projections. "The scientists are now more comfortable with saying that these increases are 'likely' or 'probable' as well – which is good news for science, but bad news for us," Yeager said.
The roundtable events, which will be co-sponsored by Clean Air-Cool Planet and local organizations in each city, will feature new maps and TV-ready animations that are the most detailed yet for sifting out exactly which local landmarks are most at risk in the metropolitan areas the tour will visit.
"We really want to deliver a message that you, as a regular person, should care about this – because it's happening, and it's happening soon," Yeager said. "But there are solutions, and we're bringing those, too."
In addition to presenting the science, each symposium will also feature a discussion of available policy solutions, including strong national efforts to reduce greenhouse gases through federal cap-and-trade legislation, and to catalyze the economy into shifting to clean energy and highly efficient vehicles, homes, appliances, and factories.
"We've also been working for some time on international efforts to reduce short-lived pollutants that scientists tell us are accelerating the melting in the Arctic," Yeager said. "By cutting emissions of black carbon from agricultural burning and diesel fuel, and reducing methane and tropospheric ozone, which don't last very long in the atmosphere, we can significantly reduce warming in the region and 'buy time for the Arctic' – which also buys time for the rest of the planet."
The U.S. is involved in these efforts, Yeager said. "We hope it will be enough time for us to take action on carbon dioxide pollution of the atmosphere, which is the main problem."
The Hip Boot Tour's maps and demonstrations of how high a meter is – using actual hip boots, blue tape, and creatively employing a Mylar-festooned Hula Hoop – make it clear that the cost of the cleaning up the damage or adapting with sea walls and other infrastructure would dwarf the cost of switching to clean energy or cutting carbon dioxide.
"The bottom line is, if we want to keep the sea water where it is, we have to act quickly," Yeager said. "The good news is, we have what we need. We just need to do it."
For a full schedule of events and further information, please see http://www.hipboottour.info.
###