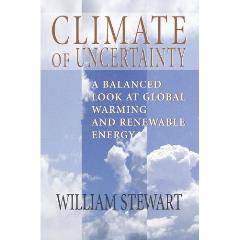 Bill is at the forefront of the evolving developments in climate change, global warming and other environmental issues, and the impact that these issues will have on the insurance industry.
Blue Bell, PA (PRWEB) July 06, 2011
William F. Stewart, a Partner in the Insurance Coverage Group at Nelson Levine de Luca & Horst (NLdH), will be a featured speaker on climate change related issues before the annual meeting of the largest scientific body in the world at the 242nd American Chemical Society (ACS) National Meeting & Exposition, August 28 - September 1 in Denver. Mr. Stewart will participate in the symposium, A Critical Look at Global Warming Data, where he will present "A Brief History of Scientific Concern About Global Warming and Climate Change." He is the only attorney participating in the symposium.
Mr. Stewart drew the attention of the scientific community last year with the publication of his book, Climate of Uncertainty: A Balanced Look at Global Warming and Renewable Energy. The book provides an objective and unbiased look at the major climate change issues impacting the world today. Since undertaking his research, Mr. Stewart has spoken at numerous conferences on global warming and has been invited to United Nations Climate Conferences. The ACS symposium will include several of the preeminent voices on climate change in the scientific community.
At NLdH, Mr. Stewart focuses his practice on insurance industry coverage issues, with particular emphasis on climate change, global warming and other emerging environmentally focused liability risks. He has litigated coverage actions on behalf of insurers in 20 jurisdictions nationwide. Additionally, Mr. Stewart has served as National Coordinating Counsel on numerous coverage issues, including climate change and mold litigation. Prior to joining NLdH, he was co-chair of the Climate Change and Renewable Energy practice at a major international law firm.
"Bill is at the forefront of the evolving developments in climate change, global warming and other environmental issues, and the impact that these issues will have on the insurance industry," said Mike Nelson, Chairman of NLdH. "Bill's practice is focused on cutting-edge coverage issues that affect our society. It's crucial that thought leaders like Bill share these insights with leaders in the scientific community at significant forums like the ACS national meeting."
With offices in the U.S. and London, NLdH provides comprehensive legal services to the insurance industry in the areas of reinsurance, regulatory, complex litigation, class action, coverage, subrogation, bad faith consulting and insurance fraud. The firm is devoted solely to providing legal representation to the insurance industry. For more information, please visit the NLdH website at http://www.nldhlaw.com
# # #