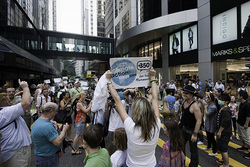 "Youth across India are already working on solutions to the climate crisis. The Great Power Race will be an opportunity for us to highlight and build on their efforts." - Roselin Dey, 350.org Indian Organizer
Los Angeles, CA (PRWEB) April 28, 2010
Students in America, China and India leverage social media and take to the streets in the first ever Great Power Race, a clean energy competition pitting country versus country to reveal who can rise to the challenge of the climate crisis with the most action.
350.org announces that in May 2010, the Great Power Race will begin with a registration round where America, China and India compete to see who can recruit the most campuses for the race. 350.org is coordinating the project with major youth organizations from each respective country: the Energy Action Coalition (US), the Indian Youth Climate Network, and the China Youth Climate Action Network.
350.org expects over 500 campuses in each country to register, marking this as the largest competitive international environmental movement for clean energy and climate action.
When the race is on, campus groups in America, China, and India must develop their clean energy projects, recruit the most students to get involved, and launch the effort on their campuses. Projects are likely to include light bulb exchanges, lowering thermostats, holding classes outside, education events, installing solar panels on campus, having a campus president sign on to a climate pact, starting food gardens, and more.
The clean energy industry claimed $162 billion in global investment in 2009. The three countries competing in 350.org's Great Power Race each made investments towards clean energy.
"Every nation is not created equal in this climate crisis," explains 350.org Founder Bill McKibben. "If we can't get the biggest polluters and the biggest economies to change, then we'll never win. "
China's clean energy investments equaled $34.6 billion in 2009, while America's totaled $18.6 billion, and India dedicated $2.3 million, according to data released by the Pew Charitable Trusts.
"We're going to focus some particular attention on China, America, and India with a Great Power Race — campuses will compete to see who can come up with the most, and the most creative, climate solutions projects," continues McKibben.
350.org recognizes that citizens around the world now have access to technology that allows for a revolution in grassroots organizing.
The web and social media will play a vital role in the Great Power Race. Students can sign themselves up, register their university or college, and recruit others online and on mobile.
"Youth across India are already working on solutions to the climate crisis. The Great Power Race will be an opportunity for us to highlight and build on their efforts," says Roselin Dey, 350.org Indian Organizer.
Students can also track registrations and other Great Power Race statistics on 350.org's Great Power Race website launching in May 2010. Students will leverage Facebook , Flickr, YouTube, Twitter and other websites to compete, organize and collaborate.
350.org uses a novel approach when coordinating global campaigns like the Great Power Race, combining the web and SMS networks, distributing lightweight Flip video cameras, training young people in climate workshops on multiple continents, and advertising in hot spots like Times Square.
Stay up to date with the Great Power Race at http://www.greatpowerrace.org.
About 350.org
350.org is an international campaign dedicated to building a movement to unite the world around solutions to the climate crisis—the solutions that science and justice demand. Their mission is to inspire the world to rise to the challenge of the climate crisis—to create a new sense of urgency and of possibility for our planet. Join 350.org on Facebook by searching for 350.org, and on Twitter @350 and #350ppm.
Media Contact
Find hi-res photos and videos of clean energy and climate action around the world along with complete contact information at 350.org/media.
###