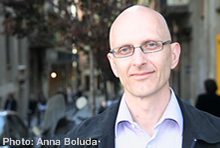 Resilience can be an investment metric to promote economic vitality.
Washington, D.C. (PRWEB) February 13, 2012
The Security and Sustainability Forum announced that its free March 22nd webinar on "Economic Vitality in a Changing Climate", co-produced by ICLEI–Local Governments for Sustainability, will host global investment and economic development and planning leaders addressing ways to attract investments that create jobs and make cities more resilient to the impacts of climate disruptions.
The webinar is on March 22nd, from 1:15 PM to 2:45 PM EST. Register for free.
The World Bank estimates that between $80 and $100 billion a year is needed to address the increase in frequency and severity of climate events and most of that expense will be borne by cities. As daunting as that number sounds it is dwarfed by the $100s of trillions spent on economic development worldwide. From a risk management standpoint, financing infrastructure that increases urban resilience to climate disruptions has big payoffs in protecting the value of economic development investments.
What is the role of government, industry and the investment community in making this risk equation work? Tune into the SSF and ICLE webinar on Economic Vitality in a Changing Climate to find out from global investment leaders. The panel includes

Jeb Brugmann author of "Welcome to the Urban Revolution: How Cities Are Changing the World" and a publication set for April release, "Financing the Resilient City: A Demand-driven Approach to Development, Disaster Reduction and Climate Adaptation"
Mindy Lubber President of Ceres, which leads a national coalition of investors, environmental organizations and other public interest groups working with companies to address sustainability challenges such as global climate change and water scarcity.
They will be joined by government and industrial leaders providing examples of successful infrastructure and capacity building investments that are meeting the dual goals of sustainability and economic vitality.
This is the fifth in the Security and Sustainability Forum's series on Adaptation and Security in a Changing Climate. Access to SSF's webinar archive is offered through a free membership program.
About The Security and Sustainability Forum:
SSF is a public interest, membership organization that hosts free live educational webinars. Sessions feature panels of global experts who address the human health and welfare impacts caused by climate and other environmental disruptions. A major focus of the webinars is how sustainable approaches to minimize environmental stresses can reduce instability and conflicts and can improve the security of mankind. Our programs seek not only to educate, but also to spark new ideas about approaches and solutions.
###