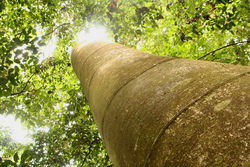 1,000 Ways To Plant A Tree
San Francisco, CA (Vocus) February 24, 2010
Mokugift announces the launch of the '1,000 Ways To Plant A Tree' campaign to offer 1,000 easy ways to plant a tree. Mokugift is partnering with innovative companies to reward customer action via tree planting. The goal of the campaign is to plant 100,000 trees via agroforestry programs. These trees will absorb an average total of 5 million pounds of CO2 per year.
The campaign is designed to showcase the myriad of ways in which corporations can help fight climate change while also achieving business goal. Be it rewarding customer referrals, showing appreciation for customer loyalty, or for opting-in to email marketing, there are unlimited opportunities for companies to find an immediate business benefit.
The '1,000 Ways To Plant A Tree' campaign is launching with 7 such companies:

Site5 – green hosting
Fountain Blue – clean energy events
City County Credit Union – paperless e-statements
Growing City – urban composting solutions
EverythingLongBeach.com – local news about Long Beach
Inventive Creations – green hosting
HG Laboratories LLC – eco-friendly cleaning products
These pioneering launch partners have already planted a total of 4,342 trees.
"Mokugift was created on the premise that people want to help fight climate change. The 1,000 Ways To Plant A Tree campaign makes that easy for individuals and also for business decision makers. The campaign was created to show that businesses that are not traditionally categorized as 'green', can easily turn parts of their business green without disrupting their business model, goals or market focus." explained Krates Ng, co-founder of Mokugift.
In the spirit of friendly competition, on July 29th 2010, Mokugift will announce the recipients for two awards:

'Mokugift 2010 Best Tree Planting Partner' – awarded to the company that plants the most trees.
'Mokugift 2010 Most Innovative Tree Planting Partner' – awarded to the company with the most innovative tree-planting offer.
Business can join the "1,000 Ways To Plant A Tree" campaign today on mokugift's website. Every company that plants 100 trees or more will be listed on Mokugift's '1,000 Ways To Plant A Tree' corporate partner showcase. Mokugift trees are priced at $1 apiece.
Mokugift trees are planted by farmers practicing environmentally sustainable forestry and agricultural methods in tropical zones in Central America, Africa and Asia. The plantings not only restock, with native trees, existing forests that have been depleted, but also contribute to more diverse, productive and economically sustainable land-use systems. Individuals can become a fan of Mokugift on facebook to get updates on the newest ways to plant a tree.
About Mokugift
Mokugift's mission is to foster environmental solidarity by making it easy and rewarding for anyone to fight climate change and by providing the tools to inspire others to do the same. The '1,000 Ways To Plant A Tree' campaign enables corporate leaders to engage their customers by planting a tree for them, for $1 apiece, through online "gifting.". Giving a mokugift tree is similar to sending an e-card. After selecting the country where their tree is planted, recipients can proudly display their trees online at Facebook, MySpace, Yahoo!, and 50 other popular Web sites.
An official partner of the United Nations Environment Programme's Billion Tree Campaign, mokugift collaborates with award-winning nonprofit agroforestry organizations such as Trees For The Future and Sustainable Harvest International to plant trees in twelve countries: Belize, Honduras, Nicaragua, Panama, Cameroon, Ethiopia, Burundi, Senegal, Zambia, India, the Philippines and Haiti. Using environmentally sustainable methods, farmers in these countries plant mokugift trees to restock existing forests and enable more diverse, productive and economically sustainable land-use systems.
About UNEP's Billion Tree Campaign
Launched in November 2006 by the United Nations Environment Programme (UNEP), with the objective of encouraging the planting of at least one billion trees worldwide each year, "Plant for the Planet: The Billion Tree Campaign" is now recognized as one of the UN's most successful environmental campaigns. The campaign has continues with a goal of planting one tree for every living person on the planet. Every tree counts, and UNEP counts every tree.
For more information on the UNEP's billion tree campaign, please visit http://www.unep.org/billiontreecampaign/
For more information on mokugift, please visit http://www.facebook.com/mokugift
# # #