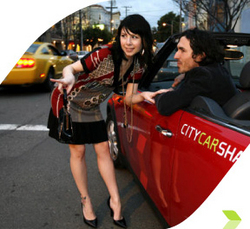 San Francisco (Vocus) March 24, 2010
MokuGift, the reforestation innovator, today announced that City CarShare has joined the PlantMyPhone program, which gives individuals a way to responsibly dispose of their old or unused cell phones. Starting March 23rd, City CarShare will begin placing secure postage-paid mailer bags (for sending in cellphones) inside reusable shopping bags that are already available to members in their cars. Additionally, individuals can go to City CarShare's office at 1182 Market Street, Suite 300, San Francisco, California during office hours to pick up mailer bags. The cellphones will be recycled and an average of 15 trees (a minimum of 1 tree) will be planted for each phone received. Through 2010, those that send in phones will receive a chance to win $1,000, while helping the environment (sweepstakes odds of 1 in 500).
"City CarShare's mission is to improve the environment and quality of life in our cities. The PlantMyPhone program reflects our green goals by reducing the risk to our local water systems, contributing to our global environment and supporting sustainable forestry around the world. Since our members will already save 55 million pounds of CO2 this year by sharing our cars instead of owning, PlantMyPhone gives our members another way to offset their carbon impact," explained Rick Hutchinson, CEO of City CarShare.
According the Environmental Protection Agency, Americans annually retire 140 million mobile devices, and many of these end up improperly disposed of in landfills. Cell phones waste often contains hazardous materials such as arsenic, antimony, beryllium, cadmium, copper, lead, nickel, and zinc. Disposing of cell phones in landfill enables these pollutants to seep into water, land and animals that interact with these toxins.
Mokugift's PlantMyPhone program is partnering with environmentally conscious businesses to get the word out and provide convenient ways for individuals to pick up postage-paid mailer bags. PlantMyPhone partners with ISO-certified environmentally responsible recycler that promote and practice 'no export, no landfill' policies. Some of PlantMyPhone' recycling partners are included in the Davos Global 100 Most Sustainable Corporations. Proceeds from recycling are used to plant agroforestry trees that replenish deforested lands and fight climate change by absorbing CO2.
San Francisco residents can visit City CarShare's Office at 1182 Market Street, Suite 300 to pick up a postage-paid mailer bag. Interested stores who want to be involved with Mokugift's PlantMyPhone can call Mokugift at 415.508.6658. More information is available at http://www.PlantMyPhone.com
About City CarShare
City CarShare (CCS) is a Bay Area nonprofit that provides convenient, affordable access to shared cars in order to reduce individual car ownership and usage. With a mission to improve the environment and quality of life in our cities, City CarShare continually strives to make their service so convenient, so reliable, and so affordable that people will prefer using a CCS car to owning their own. In doing so, CCS members are helping to reduce traffic, parking problems, and dependence on oil--while promoting cleaner air, quieter streets, and more open space. For more information about membership and current promotions visit http://www.citycarshare.org. Contact: Anita Daley (415) 970-6217, adaley(at)citycarshare(dot)org.
About Mokugift and PlantMyPhone
Headquartered in San Francisco, Mokugift is a social venture focused fostering environmental solidarity by making it easy and rewarding for anyone to fight climate change and by providing the tools to inspire others to do the same. Mokugift makes it possible for concerned citizens, even those lacking access to planting space, to plant real trees for $1 apiece, either for themselves or as gifts to others. Mokugift's PlantMyPhone enables individuals to recycle their old cellphones for free to fund the planting of trees and protect local water systems. Award-winning nonprofit organizations specializing in agroforestry project—which restore depleted lands and boost the agricultural productivity and incomes of indigenous peoples in some of the poorest parts of the world—plant the actual trees in mokugift services.
moku means "tree" in Japanese. moku means "island" in Hawaiian.
###