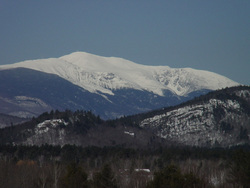 Jackson, NH (Vocus) December 26, 2009
Synnott Mountain Guides, a New Hampshire climbing guide and instruction company, is off to a successful start of the 2009/2010 winter climbing season. Despite cold temperatures and high winds, sometimes creating wind chills of more than – 50 degrees Fahrenheit, they have successfully led a number of Mt. Washington mountaineering climbs, including the first ascent of the season under full winter conditions.
Popular climbing courses this winter include the Intro to Mountaineering courses where participants learn the basics of mountaineering, including crampon and ice axe and winter camping. The course culminates in an ascent of Mt. Washington, home of the World's Worst Weather, with the highest recorded surface wind speed of 231 MPH and ice climbing throughout the Mt. Washington Valley. The Presidential Traverse, the quintessential multi-day mountaineering objective in the east, which takes three days going up and over each of the mountains in New Hampshire's Presidential Range. This winter mountaineering trek covers at least 21 miles and the peaks of Mt. Madison, Mt. Adams, Mt. Jefferson, Mt. Clay, Mt. Washington, Mt. Monroe, Mt. Eisenhower and Mt. Pierce. The winter Presidential Traverse is an excellent preparatory climb for training for Mt. Rainier or Denali in Alaska.
Ice climbing courses are extremely popular each winter, with participants coming from all over the country to climb New Hampshire's waterfall ice in areas such as Cathedral Ledge, Crawford Notch, Franconia Notch and Frankenstein Cliff. Synnott Mountain Guides offers three levels of ice climbing courses, Intro to Ice Climbing, Intermediate Ice Climbing and Advanced Ice Climbing, as well as customized programs, meeting the needs of ice climbers of all levels. Popular New England ice climbing routes include The Black Dike, Omega, The Quartet Ice Hose, Repentance, Remission, Dropline or The Last Gentleman.
Mark Synnott has taken on adventure in places like Patagonia , Pakistan , Nepal , India, China, Tibet, the Alaska Range, the Amazon, West Africa and Pitcairn Island in the South Pacific. When he's not in the mountains, Mark works with The North Face research, design and development teams and he lectures frequently on his life of adventure. He's also a successful freelance photojournalist and a senior contributing editor at Climbing Magazine. His articles and photos have appeared in many publications in the U.S. and abroad, including National Geographic Adventure, Men's Journal, Outside, Skiing and New York Magazine. Mark Synnott is also the author of Baffin Island – Climbing, Trekking & Skiing, a Baffin Island guidebook illustrated with stunning photos and detailed maps.
###