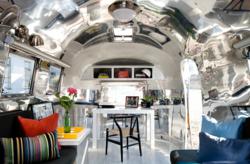 Catering to a social media/web savvy, high-end clientele, Climb relies heavily on its marketing team to interact with potential customers and spread brand awareness online.
San Francisco, CA (PRWEB) November 01, 2012
Innovation is the name of the game as San Francisco-based real estate brokerage CLIMB Real Estate Group takes brand awareness in an exciting direction with a new pilot program: a fully functioning mobile Airstream office. Catering to a social media/web savvy, high-end clientele, Climb relies heavily on its marketing team to interact with potential customers and spread brand awareness online. But like many real estate brokerages, the task of spreading Climb's brand image in the real world remains largely in the domain of signage outside of properties, open houses, and word of mouth from satisfied customers. Inspired by the San Francisco food-truck phenomenon, and the fashion trucks of Los Angeles, the Wi-Fi accessible, solar paneled mobile office will help serve the community where they are, and spread the strong entrepreneurial vision of comprehensive real estate guidance citywide.
The concept for a business on wheels is taking off around the country, with entrepreneurs in a multitude of industries seeking the advantages of mobility and cost-effectiveness. Taking a hint from the gourmet and fast food truck movement, several clothes designers and retailers in New York and Los Angeles are foregoing the traditional storefront in favor of mobile stores. With a focus on quality of goods rather than quantity, designers are saving money and piquing the interest of an even larger segment of customers with unique and recognizable mobile stores. Architects, landscapers, and interior designers have also jumped on the trend, taking advantage of the Airstream's ability to follow clients and park with windows and doors open in the great outdoors.
San Francisco continues to be one of the fastest-moving real estate markets in the country, due to low inventory and a growing number of social media and tech employees seeking housing. As new developments spring up around the city on a monthly basis, it will be important for clients to have hands-on access to agents who can outline pros and cons, negotiate deals, and provide alternative housing options on the spot. Rather than setting up shop in another brick and mortar office, the management team at Climb hopes to bring quality guidance to urban home buyers with a mobile real estate office. Tiffany Combs, who serves as Managing Broker, says, "I'm really excited to get this off the ground. I think the Airstream office really highlights Climb's focus on innovation and entrepreneurial thinking. We're hoping that wherever you go, Climb can come to you."
The office itself will be housed in a charming vintage 1964 Airstream trailer with external solar panels offering Wi-Fi internet access for anyone in and around the new office. With a Twitter feed that will let clients know where the mobile office is during the week, the mobile office should serve as a great meeting spot for clients, and a way for potential customers to interact with the Climb brand outside of the home office. 2012 has been a strong year for innovation within Climb, with further plans to strengthen the company's online presence with an in-house video production suite for agents as well as a larger presence in the social media sphere. In the pursuit of helping clients get the best quality information on the hottest developments and homes in San Francisco, Climb is approaching the issue from every possible angle.