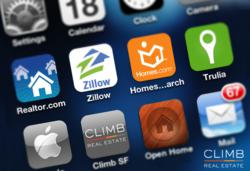 We're almost at a point in the business you don't even need a computer. ZipForms Mobile is almost to the point where I can draft a new contract on my mobile app. Everything is paperless in our office.
San Francisco, CA (PRWEB) May 07, 2013
Mark Choey, co-founder of Climb Real Estate Group, was featured on a panel of top producing agents at RealTech SF 2013. The panel spoke on the topic "From the Broker's Perspective: Embracing and Rejecting Technology" on April 30th. Choey emphasized the power of blogging, the strength of online referrals, and the convenience of mobile technology for signatures and lead tracking.
"We blog and we blog a lot," said Choey, the owner of SFNewDevelopments.com. "We get to reach anyone around the world quickly and cheaply. Back in 2005, I decided the best use of my time was writing about a new building, a new unit. It wasn't about buying ad space. I would get tons of customers from around the world. Blogging is still the most effective tool for our 50+ person brokerage."
When the panel's moderator asked about the main ways Climb Real Estate Group gets new business, Choey replied, "We've gone from leads to referrals. Good old-fashioned postcards to homeowners are how we get most listings. Yelp is one of the best sources for us for new buyers. We also do Zillow and Trulia leads, and they're definitely worth it, but you have to do it lightning fast or you don't get the leads."
On the subject of mobile tools for real estate, the top producer said, "I use Docusign. I would quit the business if it didn't exist! This is the most important tool we use to keep things going. We're almost at a point in the business you don't even need a computer. ZipForms Mobile is almost to the point where I can draft a new contract on my mobile app. Everything is paperless in our office."
In response to the question of whether technology was making realtors obsolete, Choey answered, "The day of realtors gathering comps is a thing of the past. It's ultra-local analytics of why different supposed comps are selling for different prices. Negotiation. Being versed on lending options for tough properties (like condos in litigation). Preemptive offer strategies. Off market property strategies. There are so many ways agents are highly valuable despite the data that consumers have access to now. They have access to information, but that doesn't mean they're knowledgeable about all other things I mentioned."
Also on the panel were Michael Riese of Sereno Group, Dino Riggio of New Leaf Realty. The panel was moderated by Nate Ellis, Director of Education and Training for the Contra Costa Association of Realtors.
RealTech SF is a conference on the future of real estate and technology. This year's conference took place at The Fairmont San Francisco on Tuesday, April 30th. Sponsored by Reesio and featuring speakers from Trulia, Zumper, Zillow, Realtor.com, and local real estate agencies, RealTech SF 2013 included panels on mobile marketing, challenges faced by real estate tech startups, internet leads, going paperless, crowdfunding and transparency.
Mark Choey is co-founder and partner of Climb Real Estate Group, and has been a Top Producer every year from 2007 through 2012. He is co-chair of the San Francisco Association of Realtors' MLS and Technology committee. Mark is also founder of the real estate blog SF New Developments, where he provides resources for his clients to navigate the booming San Francisco residential new development landscape.
About Climb Real Estate: Climb Real Estate Group is a full-service general real estate brokerage with an emphasis on the purchase, sale, rental and marketing of select residential new developments, commercial and premier resale properties. We specialize in condos, high rises, lofts and homes in South Beach, SOMA, South Beach, Mission Bay, Rincon Hill, Potrero Hill and Central Waterfront. Our focus is on urban-style properties, specializing in new construction, historic loft conversions, live/work spaces, Victorian flats, modern condominiums, and stylish single-family homes. We also have exclusive access to Off-Market Listings, Foreclosures and Developer Specials.