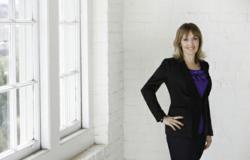 Lazier comes to Climb Real Estate Group with a successful track record in residential sales in San Francisco for the past 11 years.
San Francisco, CA (PRWEB) May 03, 2013
San Francisco-based real estate brokerage Climb Real Estate Group today announces the addition of leading real estate broker Danielle Lazier as Sales Director. In addition to leading an exclusive team of agents, Lazier will continue to work as a full-time real estate agent working with San Francisco home buyers and sellers.
"The addition of Danielle Lazier will take our real estate team to the next level," said Managing Sales Director Michelle Balog. "She is a major force in the San Francisco brokerage community, and we are excited to see her on the Climb Real Estate Group team."
Lazier comes to Climb Real Estate Group with a successful track record in residential sales in San Francisco for the past 11 years. Lazier has been with Zephyr Real Estate in the Noe Valley location on 24th Street for the past 7 years, where she was their 2012 Noe Valley Top Producer. During this time, she collected accolades such as Zephyr's #1 Company-Wide Agent for Q1 of 2013, Zephyr's #2 Company-Wide Agent in 2012, Zephyr's #1 Company-Wide Agent in 2011, and Zephyr's #2 Company-Wide Agent in 2010.
In a statement, Danielle Lazier said, "Climb has quickly become one of the best real estate companies in San Francisco. Just like SFhotlist, Climb is at the intersection of real estate and our style of San Francisco living. It's a perfect fit and I'm really excited to see where our collaboration will take us!"
Her experience also includes sales experience and training at Vanguard Properties and Remax International. During her tenure, she created one of the leading real estate lifestyle blogs, SFhotlist.com, which provides buyers and sellers with an authentic insider's view of real estate properties and the neighborhoods they reside in.
"When you buy or sell a home, you're also selling the lifestyle of the neighborhood. The SFhotlist vision is local, hyper-local—we get San Francisco and the many distinct flavors of life here. We've been a unique voice in San Francisco real estate for over a decade and have exciting plans for the site, bringing it back to its roots," said Lazier. "My collaboration with fellow innovators and disruptors is the ideal partnership for this next phase!"
As one of the first real estate bloggers, she successfully created the concept, design and marketing of both SFhotlist.com and DanielleLazier.com. She is also a 5-star rated Yelp real estate agent. As Sales Director at Climb Real Estate Group, Danielle Lazier will contribute to the company's direction and vision.
"The intersection of real estate and technology is driving brokerages to new levels," said Tiffany Combs, Managing Broker. "Climb Real Estate Group has the mind share of the consumer, key industry relationships, an incredible service reputation, and some of the best agents in the business. Having Danielle participating in the direction of Climb is going to be very special."
Mark Choey, one of the firm's Top Producers, said, "We have built a very dynamic team, so it is fitting that a top city-wide producer like Danielle Lazier is involved in the evolution of our growing real estate brokerage."
About Climb Real Estate: Climb Real Estate Group is a full-service general real estate brokerage with an emphasis on the purchase, sale, rental and marketing of select residential new developments, commercial and premier resale properties. We specialize in condos, high rises, lofts and homes in South Beach, SOMA, South Beach, Mission Bay, Rincon Hill, Potrero Hill and Central Waterfront. Our focus is on urban-style properties, specializing in new construction, historic loft conversions, live/work spaces, Victorian flats, modern condominiums, and stylish single-family homes. We also have exclusive access to Off-Market Listings, Foreclosures and Developer Specials.