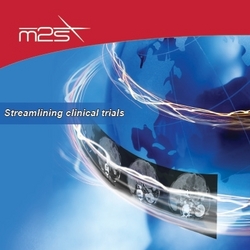 West Lebanon, NH (PRWEB) February 1, 2010
M2S Inc., a global provider of image management services for biopharmaceutical and medical device clinical trials, announced that the company doubled its clinical trials business from December 2008 to December 2009. At the close of 2009, M2S was managing trials across multiple therapeutic areas, including vascular device, oncology, musculoskeletal and osteoporosis. The trials ranged from Phase I to Phase III for the biopharmaceutical industry and from first-in-man to pivotal within the device trials.
The increase in clinical trials image management business is attributed to M2S' focus on increasing operational efficiency, delivering clinical quality and reducing total costs for the sponsors. With the ongoing development of its clinical trial technology tools and its Lean Six Sigma continuous improvement principles, the company strives to meet and exceed the expectations of customers while continuously increasing internal process efficiency.
At the forefront of the expanding clinical trial business is M2S' top-notch technology platform. The company has made large advancements within its e-clinical technologies, providing more speed and efficiency to allow customers to view results faster. Building on its proprietary image transfer technology, the DICOM ArmorCar® (DAC®), M2S has recently expanded its image transfer capabilities, adding two web-based applications for customers to allow images to be sent electronically for processing and review, meeting a recognized need in the industry. M2S has also expanded its e-clinical technology capabilities with further enhancements to its web-based, real-time data management and reporting systems. To learn more about the technology advancements M2S made in 2009, visit http://www.m2s.com/2009-technology .
About M2S
M2S offers medical image data management services across the healthcare continuum, and in 2008 the company acquired the DXA Resource Group (DRG) to further expand it scope of services. M2S clinical trial image management services include protocol development, electronic image collection, independent review, archiving and real-time web-based data management. Its clinical data registries provide long-term evaluation of treatment outcomes, benefits and cost. Over that past 10 years, M2S has managed, under protocol, over 150 million images from around the globe in all DICOM modalities.
###