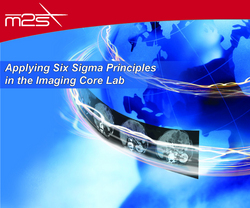 Applying the Principles of Six Sigma in the Imaging Core Lab
West Lebanon, NH (PRWEB) February 17, 2009
M2S Inc., a global provider of image management services for biopharmaceutical and medical device clinical trials, announced today that Steven Marra, Ph.D., Senior Research & Design Engineer at M2S, Inc. will give the featured address entitled "Applying the Principles of Six Sigma in the Imaging Core Lab" at CBI's 6th Annual Imaging for Clinical Trials on February 26-27, 2009 in Vienna, VA.
"This presentation will introduce the basic principles of Lean and Six Sigma, and show attendees how the application of these principles has improved the quality and efficiency of our core lab business and helped us streamline our processes. Not only does M2S benefit from these process improvements, but so do our customers through faster turnaround, outstanding quality and lower costs," said Dr. Marra.
Dr. Steve Marra currently holds the position of Senior Research and Design Engineer at M2S, Inc. He received his B.S. in mechanical engineering from the University of Pittsburgh, and his M.S. and Ph.D. degrees in mechanical engineering from the Johns Hopkins University. Dr. Marra was then jointly employed in a post-doctoral position by the Dartmouth College Thayer School of Engineering and by the Dartmouth-Hitchcock Medical Center Section of Vascular Surgery. He began working at M2S in March of 2007, and is currently involved in image analysis tool development and validation, process engineering, and new research projects.
About M2S, Inc.
M2S provides image and data management services for clinical trials sponsors in the biopharmaceutical and medical device industries, patient registry databases and is a recognized leader in 3-D endovascular treatment planning. On December 31, 2008 M2S acquired DXA Resource Group (DRG), a clinical trials service company focused on providing customer-centric, cost-effective quality assurance as well as data and project management for clinical trials involving DXA measurements. For the past 10 years, M2S has managed, under protocol, millions of images from around the globe in various therapeutic areas and in all DICOM modalities. For more information, visit http://www.m2s.com.
# # #