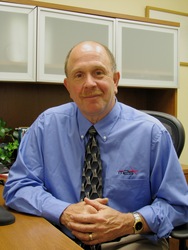 Tom brings a wealth of industry knowledge and experience to our organization
West Lebanon, NH (PRWEB) August 26, 2009
M2S Inc., a global provider of image management services for biopharmaceutical and medical device clinical trials, announced today that it has named Thomas L. Marchant Vice President of Business Development for its Clinical Trials Image Management division.
Mr. Marchant brings over 33 years of industry experience, including 12 years of Business Development experience, to the company. Mr. Marchant served as the Registries Product Manager at M2S for the past year, where he was instrumental in the development of M2S' recently launched patient and clinical data registry offering. Prior to joining M2S, Mr. Marchant was employed by Bio-Imaging Technologies, now BioClinica, as a Director of Business Development, where he effectively expanded business opportunities with key pharmaceutical, biotech, and medical device companies. He was also Product Manager for Park Medical Systems, a nuclear medicine gamma camera manufacturer, and held technical service and sales positions with BMS, DuPont and McNeil Pharmaceuticals (J&J). Mr. Marchant holds certifications from the American Society of Clinical Pathologists and the Nuclear Medicine Technology Certification Board and is a member of the American Society of Nuclear Cardiology and the Society of Nuclear Medicine. In his new role at M2S, Mr. Marchant will be responsible for overseeing the sales and marketing efforts of the rapidly expanding Clinical Trials Image Management Services division as well as the development of new business opportunities and strategic partnerships.
"Tom brings a wealth of industry knowledge and experience to our organization," said CEO Wes Chapman. "He is a recognized and respected leader in the clinical trials community, and we look forward to utilizing his strategic expertise, combined with M2S's own clinical expertise, highly efficient processes and advanced technologies, to continue to develop positive business relationships and foster growth in the clinical trials and patient data registries markets."
About M2S
M2S offers medical image data management and clinical trials data management services across the healthcare continuum based on best-in-class technology and continuous quality improvement processes. M2S clinical trial image management services include protocol development, electronic image collection, independent review, archive and real-time web-based data access. M2S clinical registries provide long-term evaluation of treatment outcomes, benefits and cost. All services focus on increasing operational efficiency, while reducing total cost and maintaining or enhancing clinical quality. Over the past 10 years, M2S has managed, under protocol, over 150 million images from around the globe in all DICOM modalities. For more information, visit http://www.m2s.com.
###