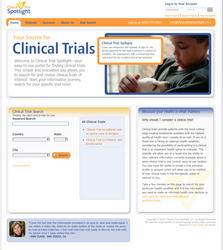 Not only does this web site list clinical trial information in a novel new format, we go an extra step and take it directly to the specific patient population for that trial, thus increasing the number of completed on-line pre-screening questionnaires.
Solana Beach, CA (PRWEB) March 2, 2010
RESolutions Rapid Enrollment Solutions, LLC, ("RESolutions") a firm specializing in patient recruitment for clinical trials, announces the launch of a revolutionary new web site devoted to increasing the success of patient recruitment through the internet. Clinical Trial SpotlightTM, utilizes the global power of the web to cost effectively boost the pool of eligible patients for screening for any given clinical trial. For the first time ever, sponsors will have the ability to upload recruitment material approved by their Institutional Review Board (IRB), on their own specific landing page. The material that can be uploaded includes video clips, informational brochures, audio overviews of the trial, inclusion/exclusion criteria, trial site listings, pre-screening questionnaires, and much more. A trial specific landing page can be set up within a matter of minutes in 3 easy steps, which is much more convenient and cost effective than building a separate web site for each trial. Furthermore, sponsors can edit their landing page at their convenience and they will also have access to key metrics (not containing specific patient information) pertaining to number of "click throughs" by potential trial participants and completed, eligible pre-screening questionnaires sent to trial sites. The technology also allows full translation of the landing page in most languages. Visit http://www.clinicaltrialspotlight.com today to register as a sponsor and start heightening the awareness of your trial to your specific patient population.
According to Pew Internet and American Life Project, 80% of adult Internet users, or about 93 million Americans, have searched for at least one of 16 major health topics online. This makes the act of looking for health or medical information one of the most popular activities online, after email (93%) and researching a product or service before buying it (83%). This validates the importance of listing your clinical trial on clinical trial spotlight as a vital component to the success of increasing the pool of potential patients for screening at your select trial sites.
A survey of patients searching for clinical trials was recently conducted. In summary, the results indicated that 60% of potential study participants prefer to complete a pre-screening questionnaire online as opposed to over the phone. The survey also told us that patients have a greater understanding and retention of the information when it is presented in formats that are easy to understand and navigate such as video clips and audio recordings, as opposed to lengthy science laden text. In summary, the participants indicated that they would have a greater propensity to complete a pre-screening questionnaire when the information is presented to them online and in a crisp and patient friendly manner.
About Clinical Trial Spotlight.
Clinical Trial Spotlight is a subsidiary of RESolutions, Rapid Enrollment Solutions, LLC an established patient recruitment firm whose management team has over 25 years of direct patient recruitment experience including hands-on experience from both trial sites and industry settings.
This novel website was developed in response to requests received by patients through RESolutions' on-site call/triage center as well as information we learned from many years of successful direct patient recruitment campaigns.
Media Contact:
Gus Fernandez, Pharm.D. 858-350-0023
# # #