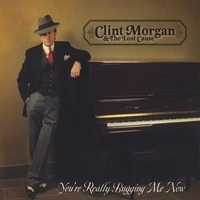 Man, I got sick of all those 'my sorry life isn't complete without you' songs
(PRWEB) March 9, 2009
A new genre-bending album that blends blues, gospel, country, and rock-n-roll has been released by singer-songwriter Clint Morgan and The Lost Cause. A musical run through Mississippi blues, Texas country, and Memphis rock and roll, 'You're Really Bugging Me Now' is available at http://www.lostcauserecords.com or http://www.cdbaby.com.
'You're Really Bugging Me Now' walks a line between the reverent and the irreverent, delivering smart and witty lyrics about life and relationships to a blues/boogie-woogie beat - with a couple of traditional country and gospel numbers thrown into the mix. Morgan's piano work is alternatively intricate and hard-charging, bringing to mind Pinetop Perkins and Jerry Lee Lewis.
Morgan, a charter member of the International Blues Foundation, has played in Americana meccas such as Memphis, Tennessee, Clarksdale, Mississippi, and Austin Texas. He is equally at home pounding out a piano boogie tune as he is an old gospel song and slides between blues and country effortlessly. Morgan said: "It's all the same to me. It's American music from the American tradition. It's from the heart. It's our music, and it tells our story."
"Man, I got sick of all those 'my sorry life isn't complete without you' songs," says Morgan. "They're so sweet that I almost lapse into a diabetic coma just listening to them. I'll bet that most of the people who hear that stuff are thinking, 'What are they talking about? That's not my life.' I thought I'd go in a different direction - you know, maybe back to Planet Earth where the rest of us live."
'You're Really Bugging Me Now' has received a Grindie award from independent music website RadioIndy.com.
###