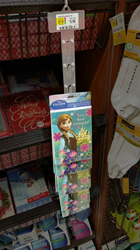 Clip Strip® Brand Merchandisers span the globe from New York to Manila, and are used in every kind of store, big to small and in between.
Hackensack, NJ (PRWEB) March 24, 2015
Clip Strip Corp. announced today the release of a new video revealing the never-before-told-story behind the company's Clip Strip® Brand Merchandising Strip. The invention is a great American success story of an item used by millions of businesses and consumers on a daily basis.
The Clip Strip® Merchandiser is a retail store point of purchase tool. It holds individual packages of consumer products suspended in mid-air, from a shelf or display rack in supermarkets, convenience stores, and the like. Made of metal or plastic, this vertical strip features clips and/or hooks from which a variety of merchandise can be displayed. This simple, but brilliant idea revolutionized point-of-purchase (POP) merchandising across the US and around the world. First introduced in 1980, it continues to be as popular today as ever.
The new video, which is now available on the Clip Strip Corp. website at http://www.clipstrip.com/history-of-the-clip-strip-video.html, features CEO, Founder and Inventor Edward D. Spitaletta discussing the "why" and the "how" behind his invention; that not only spawned a successful business venture, but forever changed the retail industry.
Mr. Spitaletta also shares insights on key early adopters who first believed in the Clip Strip® Merchandiser, and why it remains so popular today. Along those lines, Mr. Spitaletta's two sons, Robert and John, appear in the video and share insights on the evolution of Clip Strip Corp.'s product line, and the current state of the company.
"Clip Strip® Brand Merchandisers span the globe from New York to Manila, and are used in every kind of store, big to small and in between," commented Robert Spitaletta. "But despite this massive popularity, few people know about how it all started. Our new video tells this inspiring and important story to retailers, merchandisers, packaging engineers, brand marketers and operations staff. At the same time, it also aims to enlighten the hundreds of millions of shoppers who have benefited from using a Clip Strip®, yet aren't aware of its very unique and interesting history."
Businesses looking to promote their products in-store and improve sales can visit http://www.clipstrip.com to learn more about the Clip Strip® Merchandiser, along with Clip Strip Corp.'s other product lines including: sign holders, literature holders, hang tabs, display construction components, ceiling and window sign hanging systems, product merchandising, slatwall accessories, sign frame systems (plastic and metal), suction cups and more.
Free samples are also available upon request and ship within 1-2 days Monday through Friday. Learn more at http://www.clipstrip.com/sample-request.html.
For all additional information or media inquiries, contact John Spitaletta, Chief Business Officer, at 1-800-4-CLIP-STRIP (1-800-425-4778) ext 202, or john(at)clipstrip(dot)com.
About Clip Strip Corp.
Clip Strip Corp. develops and markets innovative Point of Purchase (POP) merchandising products and sign communication components to global retailers, brands and display designers. The goal is to offer display options to clients that effectively communicate to retail customers the benefits of their products and services, while empowering impulse-driven sales through smart merchandising methods.