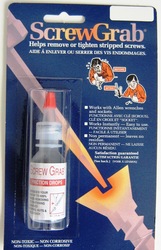 You have my personal guarantee of a full refund if not completely satisfied with any products Align-Rite offers
Grand Rapids, MI (PRWEB) October 21, 2008
Align-Rite Inc., is Eager to Spread the Word on Two New Innovative Products that Speed Up Home Repair and Factory Maintenance Operations.
ScrewGrab "instantly" increases available torque between any type of fastener and tool surface by over 800%! Superb when trying to remove rounded or stripped out fasteners, hex & allen hex's to rounded nuts & bolts. ScrewGrab can also be used in a "preventative" measure, virtually eliminating the damaging of fasteners altogether. ScrewGrab is Not a glue, rather uses innovative technology to produce friction between fastener and tool. Simply apply to either the tool or fastener and wipe clean when finished, it's that easy. ScrewGrab can also be left on the tool surface for "multiple" applications, if desired. ScrewGrab Speeds up all repairs from Bikes, Cars and general Home Repairs to Manufacturing Equipment. No Tool Box or Repair Station should be without it!
PenBuddy is a retractable attachment that allows you to keep a Pen or Pencil ready at "all times"! PenBuddy affixes permanently to any type of Clip Board, Checkout Counter or Telephone utilizing a telescoping "retractable" tether to keep your writing instrument secure and available at "all times"! Penbuddy eliminates any loose or hanging cords to get in the way, will hold most any pen or pencil and allows for easy replacement of either whenever needed. Stop your constant search for a pen now and get PenBuddy!
Align-Rite, Inc. was founded by Larry Swanson, an inventor and entrepreneur with a 25 year career developing innovative products for the automotive, hardware & consumer markets. "You have my personal guarantee of a full refund if not completely satisfied with any products Align-Rite offers" - Larry Swanson, CEO of Align-Rite, Inc.
###