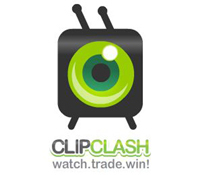 We really wanted a chance to give our active members something amazing, as a sort of thank you for making ClipClash so wonderful, and thought giving away an iPad would be perfect
New York, NY (Vocus) November 9, 2010
Since the release of the Beta version at the end of September, ClipClash saw a steady rise in member sign ups. Currently members compete in the Weekly and Monthly Game Rounds, with scoring based on various elements, such as changes in channel playlist value and the amount of channel viewership during the game round. Due to the increased level of registrations and activity from its users, ClipClash will start adding real prizes to certain game rounds.
ClipClash is giving away an iPad to one special ClipClash user. The opportunity to win an iPad is available for future and current members and encourages them to even be more active promoting the platform by offering extra changes if they join in ClipClash chatter on Facebook and Twitter.
"We really wanted a chance to give our active members something amazing, as a sort of thank you for making ClipClash so wonderful, and thought giving away an iPad would be perfect," said Hilary St Jonn, the Online Marketing/PR Manager.
ClipClash members can now also compete with friends to win prizes such as a $25 iTunes gift card in the Monthly Game Round. The runner ups for the Monthly Game Round and the winners of the Weekly Game Round will still win "Goldies" (the ClipClash virtual currency) so members can continue to trend spot and virtually buy music videos they think will raise in popularity, and in consequence, their channel to the top.
ClipClash looks forward to adding more prizes to the Game Rounds in the coming months, and even adding different game rounds to the platform as more people become involved in the system. "We hope to hear from our members about what prizes they want to see on ClipClash and what other type of game rounds we should have," explains St Jonn. "We firmly believe that the members should have a strong say in how ClipClash will expand."
About ClipClash
ClipClash.com is a unique online video clip / fantasy game platform which lets users create and manage their own music video channel while interacting & competing with friends. ClipClash also provides video program services with new, added means to monetize their offerings. The ClipClash patented system and sophisticated algorithms continually index and monitor the popularity of individual video clips and assigns each a dynamic, fluctuating price, based on their overall and comparative performance worldwide and within the ClipClash platform. ClipClash Inc. is a privately owned online video platform start up, founded, managed and funded by seasoned Internet entrepreneurs.
Visit us at ClipClash.com
###