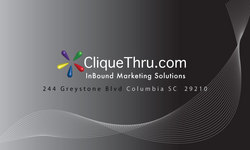 After decades of relentless, outbound badgering, companies have literally lost the privilege of interrupting consumers with traditional media messages, delivered through traditional media vehicles
Columbia, SC (Vocus) June 16, 2010
Clique InBound Marketing Solutions, today announced the launch of free inbound marketing seminars to be hosted at New Horizons Computer Learning Center, a partnership designed to dramatically increase local businesses' knowledge of how to best utilize the current media and marketing landscapes to dominate their competition.
"After decades of relentless, outbound badgering, companies have literally lost the privilege of interrupting consumers with traditional media messages, delivered through traditional media vehicles," Clique Marketing Manager, Ted Bauer, explains. "Our ability to receive information of our choosing, how, when and where we want to receive it, is the foundation of the historic shift from the outbound to the inbound marketing world."
The initial complimentary two-hour tutorials, scheduled for July 13, 15 & 20, will concentrate on the three fundamental components of inbound marketing, including SEO (Search Engine Optimization), social media and eContent development. Future seminars will provide comprehensive information on each inbound marketing element, including, but not limited to, link building, lead cultivation, keyword research, calls to action, social media analytics, blogging and email.
Owner Jeff Moses states, "Economic development and competitiveness initiatives in South Carolina focus primarily on tax mitigation, tort reform and employment security improvements. Our goal is to provide South Carolina businesses (directly) with the knowledge necessary to create, implement and manage their own individual economic development and competitive advantage strategies. Of all the direct-influence facets of business that impact regional, national and international competitiveness, none are as malleable, cost-effective or profitable as well researched, well executed and well administered inbound marketing efforts."
About Clique InBound Marketing Solutions:
Clique Inbound Marketing Solutions was co-founded by Jeff Moses and Ted Bauer in early 2010. Located in Columbia, South Carolina, Clique's main objective is to educate South Carolina business owners and marketers on how to best utilize the current media and marketing landscape to earn competitive advantage. They identify local businesses' Web 2.0 knowledge gaps and develop programs that directly train individuals to effectively bridge those disparities. One of a select global membership group of approximately 3,300 Inbound Marketing Certified Professionals, Ted Bauer brings over 15 years of marketing and sales experience to Clique from the outdoor, broadcast, print, e-commerce and ad agency industries. Jeff Moses, President / CEO and Managing Member / Director of five New Horizons Computer Learning Centers in South Carolina, West Virginia and California, has over 30 years of combined experience in the retail, finance, and information technology industries.
Clique InBound Marketing Solutions is located in the New Horizons Computer Learning Center campus, at 244 Greystone Blvd., in Columbia, South Carolina.
For more information about the company and their services, visit http://www.cliquethru.com , find them on Facebook, or call 803.576.1208.
# # #