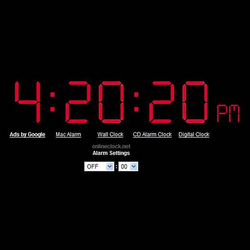 Berlin, Germany (PRWEB) April 20, 2009
OnlineClock.net has expanded their Online Alarm Clock services to include a brand new invention, the likes of which the world has never seen before: a Clock Radio you can use in your web browser.
Online since early 2006, OnlineClock.net has grown into the most successful Online Alarm Service on the internet, providing a wide variety of Online Alarm Clocks, Timers, Stopwatches and Countdowns.
The Online Clocks found at OnlineClock.net are all free, minimally designed and simple to use. No user logins or registrations are required in order to use any of OnlineClock.net's various clock services.
The invention of the Clock Radio represents the fruition of a concept created by OnlineClock.net's creator and developer, Thomas Churm. Mr. Churm is an American ex-pat and web programmer living in Berlin, Germany.
Divided up into separate categories called Genres, there are literally hundreds of different streaming Internet Radio Stations available to listen to for free on the world's first-ever Online Alarm Clock Radio.
From Alternative to Country, from Punk to Classic, and from Soundtracks to Talk, Online Radio Stations for listening tastes of all kinds can be found on the world's first Online Clock Radio. When you've found a Radio Station or a Genre that you particularly like, you can simply bookmark it, thus creating "Presets" of Clock Radio Stations that you can easily return to again and again.
The only requirement is that users must first install the free version of the RealPlayer plugin, in order to enjoy the free Streaming Radio functionality on the Internet Clock Radio website. Please note that the Clock Radio restricts alarm options to the site's own alarm sound. Streaming Radio Stations sometimes experience downtime, and OnlineClock.net wants to make sure you'll wake up when you're supposed to.
More information can be found at OnlineClock.net.
# # #