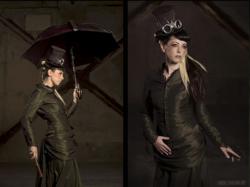 Steampunk is the utopian vision of Victorian finery mixed with futuristic technology.
Burbank, CA (PRWEB) November 08, 2012
The official Grand Opening of Clockwork Couture has arrived! Join us on Wednesday, November 14th at 3:30 P.M.
Celebrate Steampunk Style with Captain Donna, her crew of the S.S. Clockwork Caravel, and Tea Girls artist Brian Kesinger. A delightful array of fashion, jewelry and accessories will be on display, along with art prints, tea service and animal adoptions.
Clockwork has been at the vanguard of Steampunk fashion, providing ready-to-wear apparel for women and men since 2008. Owned and operated by Burbank resident Donna Ricci, this unusual store carries a wide variety of Victorian-inspired apparel. Ricci has a special affection for the style. "Steampunk is the utopian vision of Victorian finery mixed with futuristic technology."
Her philosophy extends into a clothing line that combines modern, cruelty-free fabrics and fit with a 19th Century design aesthetic. Along with her off-the-rack offerings are custom hats by French Room-trained milliners are custom-fit corsets for every size, and custom finery, often modeled by the likes of actors Felicia Day and Doug Jones. From brass cog necklaces to high-button boots, the store offers an extensive variety of unique accessories infused with a delightful Steampunk sensibility.
Along with her fashion endeavors, Captain Donna has a strong sense of community, hosting gaming nights to build a sense of community and never forgetting the smaller citizens, providing food and shelter to homeless animals in her shop. Dedicated to finding forever homes, there is always a cat, dog, rabbit, squirrel or even a horse, that is fostered by her store.
Hosted by the Burbank Chamber of Commerce, this event marks the perfect chance to share a cup of tea or a cupcake with the Captain. Is that a giant tentacle reaching for hats? And did Dr. Who really park his TARDIS in front of the shop? Join us for a delightful afternoon of whimsy and fashion.