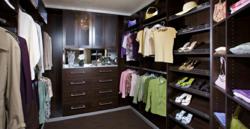 Organizing closets can be challenging, but it is well worth the effort
San Carlos, CA (Vocus/PRWEB) June 15, 2011
Closet Factory, located in the Peninsula and serving the entire San Francisco Bay Area, is providing valuable tips on how to organize closets. No matter how big or small a home, everyone wants to use closet space as efficiently and productively as possible.
"Organizing closets can be challenging, but it is well worth the effort," says Uri Rosenberg, CEO of the Bay Area's Closet Factory. "Knowing that everything is where it should be, and everything is easily accessible, can vastly improve our day-to-day lives. Closet Factory can help transform your existing closets into stylish and highly functional organization systems."
While Closet Factory can help you get the most out of your closets, there are a few everyday tips that can help anyone.
First, take time to weed out those items that you no longer use or need. Donate them and make room for things you use on a daily basis. Second, make sure to hang up or fold all items daily. The extra few minutes a day it will take to hang or fold everything will make using your closets an infinitely more enjoyable experience. And, finally, adopt the "One-In-One-Out" rule: remove one item from your closet each time you purchase a new one. That way, you do not end up with items you no longer wear or use and you have room for those things that you do use.
"We design and make everything custom, so we can use every inch of your existing space in a way that beautifully complements your existing decor and fulfills your storage needs perfectly," said Rosenberg. "We are family owned, have an A+ rating from BBB, are LEED certified, and have many happy repeat customers. Look for our excellent reviews on Yelp. Remember, what you do in your closet is our business."
Contact Closet Factory today at http://www.closetfactory.com/sanfrancisco or call 1-888-678-6789.
About Closet Factory
By continuing to set new standards in client care, customization, and craftsmanship, Closet Factory grew to become a leading franchise in closet systems with dozens of territories throughout the United States. This national network of individuals is dedicated to creating the most personalized storage solutions right down to the last drawer handle.
###