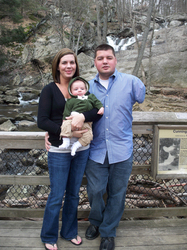 "When we heard about this worthwhile cause, we immediately agreed to donate our labor and materials. It is an honor and privilege to help an American who gave so selflessly to make all of us safe." - Jan Stotlemyer, Owner of Closet Factory DC & Baltimore
Frederick, MD (PRWEB) March 24, 2011
Closet Factory DC will be designing, manufacturing and installing custom closet systems for United States Marine Sgt. Adam Kisielewski. Upon hearing about this Home For Our Troops building project in their community, Closet Factory DC owners Denny and Jan Stotlemyer were honored to donate labor and materials for this man that gave so effortlessly to defend our country. The closets will have some special adaptations in the master bedroom closet to insure Adam's ease with getting ready for each new day.
Homes For Our Troops is a non-profit organization that is committed to helping veterans who have returned home with serious disabilities and injuries since 2001. Sgt. Adam Kisielewski is having a specially adapted home built for him, his wife, and infant son in Frederick, Maryland. First is the Build Brigade, a three-day construction event where the skilled trades team raises the house to a weather-right shell. Next is the Volunteer Day, a one-day "all hands on deck" event where the community support team cleans and landscapes the house to perfection. Last, the Key Ceremony grand finale happens. This is when the entire community joins Homes for Our Troops to present Sgt. Adam Kisielewski with his new home.
This great cause is still in need of additional supplies and labor donations to complete the project. Additional materials needed for completion are insulation, sheetrock, garage doors and lighting. For a full list of needed materials and contact information, please visit their website: http://www.HomesForOurTroops.org and search Adam Kisielewski or click this link: Homes For Our Troops - Adam Kisielewski
Monetary donations are also still greatly needed. To find out information about giving to this cause please visit this Homes for Our Troops link: How to Donate – Ways to Contribute
About Closet Factory D.C.
Denny & Jan Stotlemyer have owned and operated the local franchise for Closet Factory in the Washington DC Metro area since 1996. For the past year they have been operating the Baltimore franchise for Closet Factory. They have brought the same degree of customer service and technical ability to an entire new group of clients. With the Baltimore area included, they now cover the entire state of Maryland, Washington, DC, and all of Northern Virginia.
Closet Factory is a leading franchise network specializing in custom storage solutions for the entire home. Since everything is custom designed, it allows them to address many issues specific to accessibility that the end user will love. They are not tied to a standard set of designs or specifications, but can work with each client to come up with the design that fits their individual needs. This means that Closet Factory can adjust counter heights, door heights, create access below the unit and modify it to work exactly for the needs of the person who will use it.
To learn more about Closet Factory D.C., visit http://www.ClosetFactory.com or http://www.closetfactory.com/washingtondc/ .
###