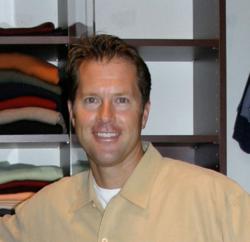 I personally invite you to our new showroom. Come and see our extensive selection of closet designs and quality cabinetry at affordable prices.
Irvine, CA (PRWEB) October 19, 2011
This November, Cabinets Plus will celebrate its two-year anniversary of their state-of-the-art factory showroom in Irvine, California. Located just off the 55 Freeway, Cabinets Plus has been crafting closet organizers, garage cabinets, home offices, entertainment centers and bathroom vanity's for 23 years.
To mark this special event, Cabinets Plus has added the Wenge wood grain line to their series of standard color options. These new colors can be viewed at their showroom in one of their home office displays and their walk-in closets organizers.
Additionally, the Orange County, CA, based custom cabinet manufacturer has installed a built-in iPad station allowing customers to browse a multitude of closet organizer, garage cabinet, home office, entertainment center and bathroom vanity installations.
Technology has played a key role in Cabinets Plus's success. This month was the release of their custom designed web page, Cabinetsplus.net.
###