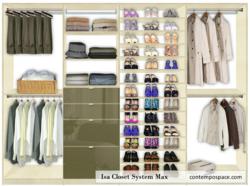 There are lots of ways to design a custom closet... Contempo Space is the only company that has the ability to make available every possible option in a closet system.
Passaic, NJ (PRWEB) December 04, 2012
Since launching Isa closet systems on its website in August, Contempo Space has been manufacturing custom closets for their customers at prices more attractive than those of competitive closet companies.
Due to the popularity of the closet systems, the Isa line has been expanded with 8 new products for December. The new additions reflect closet designs commonly requested by customers, and the custom closet page (http://www.contempospace.com/bedroom-furniture/wardrobe-closets/custom-closet-systems.html) now offers a total of 33 configurations.
These include new kids closets, hangrod and shelf combinations, and sets of closet drawers.
The secret to the success of Isa closets can be summed up in one word: modular. Modular closet components enable closets of any size to be fitted with the components of the new closet systems.
"No two closets are the same," says representative Danielle Mancini, "but that doesn't mean you should reinvent the wheel when it's time to design or redesign the interior of a built in or walk in closet."
"With the Isa closets, we have the most practical elements for any kind of closet, and we can put them together in any size and configuration with the technology and experience we have gathered over the last 30 years."
These range from basic single units that enable a small closet to be outfitted with extra hang rods and shelves for under $200 to deluxe, fully equipped closet systems with additional adjustable shelves and various numbers and sizes of drawers for truly customized closet organization.
In addition to customized closet sizing, which can be done through the online ordering page or with a professional closet designer over the phone or in the showroom, available closet design features include double hanging rods (or even triple hanging rods for kids closets), a dozen different drawer handles, and choice of finish, as well as the option to have glossy, mirrored or colored glass drawer fronts on units where closet drawers are included.
"There are lots of ways to design a custom closet," says Mancini, "and whether a customer prefers to design it from scratch or use modular units for a more economical array of customization options, Contempo Space is the the only company that has the ability to make available every possible option in a closet system."
Additional information and photography for the new closet systems are available at http://www.contempospace.com/contempo-space-blog/11/30/new-closet-designs-online-this-week
About Contempo Space:
Contempo Space has been specializing in custom home furnishings for 30 years, offering modern lines of bedroom furniture, living room furniture and more. Design consultants and craftsmen work with customers to create the perfect piece for any space, hand-crafted to meet the customer's specific needs.
To learn more about Contempo Space, the one-of-a-kind company that still puts quality first and still designs and manufactures furniture locally at its Passaic, NJ factory showroom:
Visit http://www.contempospace.com, call 888-266-1280 or visit the showroom on Canal Street @ Passaic Street, Passaic, NJ