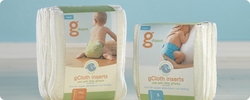 gDiapers cloth diaper option is unique due to its snap-in, waterproof, breathable liner, meaning you don't need an entirely new pair with every dirty diaper. Less cost, less washing, less footprint," says Kim Graham-Nye, president & co-founder of gDiapers
Portland, OR (PRWEB) January 25, 2010
gDiapers (gDiapers.com), the most environmentally safe diaper today, provides parents a diapering solution that is not only good for babies but also for the planet! The gDiapers system has always consisted of a washable and breathable little gPant and a 100% biodegradable gRefill. Now, gDiapers is offering another earth-friendly alternative to work with, introducing gCloth their new washable and reusable absorbent cloth diaper insert.
Like the disposable insert, the new gCloth insert is designed to specifically fit gDiapers soft little gPants. The new gCloth provides the same trim fit as the biodegradable gRefills without giving up the absorbency. gCloth diaper inserts are made of two layers of soft 100% polyester microfleece and two layers of hemp/cotton. gDiapers keeps baby's bottom dry and comfortable while absorbing wetness and holding in moisture.
Parents can use both gCloth and gRefills with little gPants. gDiapers, the ultimate diapering system, is now designed to offer two diapering options with one diaper cover giving moms and dads the choice of either flushing, composting or tossing the disposable refill or washing the cloth option for reuse.
Cloth diaper inserts come six in a pack and are $29.99 for both small and medium/large. Little gPants come in a variety of cute colors and patterns and are available in small, medium and large for $16.99 and $18.99. gDiapers are available on-line at gDiapers.com, major internet retailers, and at natural products retailers nationwide.
Founders Jason and Kimberley Graham-Nye are committed to developing products that are gentle to babies and safe for the environment. gDiapers is Cradle-to-Cradle gold certified (http://www.mbdc.com), which means that everything that goes into making a flushable refill is reabsorbed by the planet in a natural or helpful way. For more information, visit http://www.gdiapers.com.
###