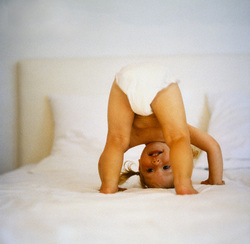 Today's parents were the first generation of babies raised exclusively in plastic diapers, and their children may be the last
Excelsior, MN (PRWEB) January 28, 2008
epShops, Inc., a leading, privately owned, operator of specialty online retail stores, today reported record operating results for 2007 led by explosive growth in its online retail outlet specializing in cloth diapers, http://www.ComfyBummy.com . The company also announced plans to more than triple the number of niche ecommerce retail outlets during 2008.
"Today's parents were the first generation of babies raised exclusively in plastic diapers, and their children may be the last," said Camille Knutson, ComfyBummy Operations Manager. Cloth diapering is making a comeback. In fact, companies that market cloth diapers have reported sales increases of 25 to 50 percent in the past few years.
"What's driving the return to the old ways of doing things? You could say the cloth converts have gotten a conscience. The use of cloth diapers over plastic ones is a lot more environmentally friendly, especially when you consider the fact that disposable diapers thrown away today will still be in the landfill 300 years from now; and helping save Mother Earth isn't the only benefit they offer," added Knutson.
According to Comfy Bummy Diapers, an online business specializing in cloth diapers and accessories, cloth is a more economical way to go as well. The average family can expect to spend anywhere from $2,800 to $3,500 on disposable diapers from the time their child is a newborn until they are potty trained. Cloth diapers cost just a one-time investment of between $300 and $500.
Scott Long, epShops, Inc. CEO added: "and, many parents swear cloth diapers, made of 100 percent cotton are better for their babies' skin as well. Plastic diapers are filled with chemicals that can cause nasty rashes when they come in contact with urine and feces. Cloth diapers are chemical-free."
Whether you have a little one on the way or are interested in making the switch, here are some of your options:

This is the most economical cloth diaper option available, ranging in cost from between $18 and $40 per dozen. Pre-folds are rectangular diapers made of extremely soft and durable woven cotton that you fold, then insert into a diaper cover or waterproof wrap. They are available in sizes ranging from preemie to toddler and, when the child is done with them, they can be used for cleaning around the house.
This type of diaper is designed to fit around the waist and legs of the child and typically has a sewn-in or snapped-in diaper doubler to provide extra absorbency. They are available in sizes ranging from newborn to toddler.
These are cloth diapers with sewn-in snaps or Velcro so they can be adjusted to fit the child from the time they are a newborn through their toddler years.
All-In-One (AIO) cloth diapers
An All-In-One diaper is as close to using a disposable diaper as you can get - with all the benefits of using cloth. There is a built in waterproof outer layer which eliminates the need to use an extra diaper cover. The inside fabric is soft and wicks moisture away from baby's delicate skin. It's everything you need in one package.
According to Knutson, the one-size diapers are by far the company's best sellers. "Parents love the fact that these offer a great value. They only have to shop for diapers once. Buy 12 to 16 of them, and they'll have all the diapers they need from the time the child is a newborn until they're ready for potty training." she says.
ComfyBummy.com offers several different Try It Out Packages that include a variety of different diaper types and brands and also offers a number of resources for parents. Among them: an explanation of the different types of cloth diapers and their benefits as well as reviews and instructional videos ; diapering and folding guides; a washing guide; and a cost savings calculator
In addition to diapers the site also carries the Earth Mamma Angel Baby line of lotions, creams and soaps made with certified organic and organically grown herbs, as well as diaper bags, nursing pillows and other baby essentials.
In addition to comfybummy.com , epShops, Inc. operates several leading destination retail websites including, among others, http://www.preferredpetproducts.com , http://www.alldigitalframes.com , http://www.bestbabyproducts.com , http://www.wildbirdplace.com and http://www.homeandpatioplace.com. Long said "2007 was a year of exceptional growth for the entire epShops family of stores" and that they have five additional stores in development for launch during Q1 and plans for many more during 2008.
Contact Info:
Scott Long
612-991-4702
sl @ epshops.com
# # #