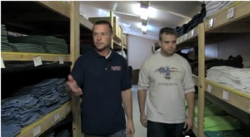 We're willing to DIE for our country,but are we willing to BUY for it? – Josh Miller
Dayton, OH (PRWEB) January 19, 2013
An upcoming documentary film from Made in the USA Films, LCC will attempt to explore the rise and fall of American made products. During the film, Josh Miller will set out on a journey in which he will attempt to live off of only made in USA products for 30 straight days. During his journey, he will speak to the people within the heart of America to find out if made in USA means anything anymore.
The All American Clothing Co. was proud to participate in the film`s creation. On day 4 of their journey, Josh Miller and the "Made in the USA, The 30 Day Journey" crew stopped in for a visit at the All American Clothing Co. headquarters in Arcanum, OH. Miller and crew interviewed All American Clothing`s Co-Founder Lawson Nickol about American manufacturing. During the interview, Miller took his USA made commitment to the level of sitting on a log because he could not find a USA made chair.
After the interview, Miller and crew toured the USA made clothing company with another All American Co-Founder BJ Nickol before setting off on their journey once again. On the rest of their journey, Josh and his team met with and interviewed American Manufacturing companies throughout the country.
"Made in the USA: The 30 Day Journey" has already received attention from media outlets around the world. A trailer of the film can be watched here. Look for the film`s release date to be announced soon.
"We believe Josh will discover the importance of what made in the USA means for our country, our people, and our future generations." – BJ Nickol, Co-Founder All American Clothing Co.