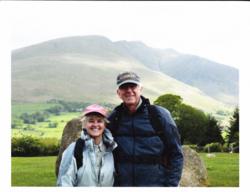 Tom and his son, Chris, who represents Ramblers Way on the West Coast, stopped into Khaki's in the late spring to show us their line.
Carmel, CA (PRWEB) October 19, 2011
Clothing store Khaki's of Carmel is dedicated to being the best in men's clothing by providing a winning combination of the world's finest brands and most exquisite fabrics tied to a reputation for renowned customer service. Serving residents and visitors of Carmel and the greater San Francisco Bay Area, this is a specialty men's clothing store with a passion and obvious enthusiasm for fine apparel.
Khaki's of Carmel is now pleased to announce that they are carrying Rambler's Way, an eco-minded apparel company started by Tom Chappell of "Tom's" toothpaste. Ramblers Way is sustainable, 100% American-made wool comfort wear.
"Tom and his son, Chris, who represents Ramblers Way on the West Coast, stopped into Khaki's in the late spring to show us their line," said Connie Ockert of Khaki's of Carmel. "After their presentation, we had a nice casual dinner with the two of them and we came away very inspired by the new line of eco-friendly wool attire and even more so by Tom himself."
Ramblers Way offers two levels of comfort and warmth for men and women, including lifestyle ultra-light for soft, next-to-skin comfort and a medium weight line with more substance. The eco-thermal pieces are available in a range of styles from henleys, polos, v-necks, hoodies, long john's and briefs.
Created by husband-and-wife luxury merchants, Jim and Connie Ockert, Khaki's has grown successfully under their management to a corner store location that is four times larger than its previous location of 20 years. Carmel is a seaside jewel called a "playground for the rich and famous" and a destination spot for people that are passionate about their appearance like celebrities, media personalities, and captains of industry that come for the eclectic mix of American luxury brands and Italy and Europe's top brand dynasties. It is here that these folks mingle with locals and tourists and take advantage of the best restaurants in this beach resort destination two hours south of San Francisco. Khaki's of Carmel is a must-see for the best in men's clothing and men's suits in Carmel.
Khaki's of Carmel offers a full selection of menswear that includes the world's finest sportswear, including chinos, cashmere sweaters, outerwear, pre-denim, leather goods and a full selection of made-to-measure sport coats and suits by the world's finest mills including Holland & Sherry, LoroPiana, ErmenegildoZegna and Barberis.
For more information about Khaki's of Carmel, contact them at (831) 204-1004 or visit them at Carmel Plaza, Suite 104 on the corner of Ocean Avenue and Junipero in Carmel by the Sea, CA. Visit their website at http://www.khakisofcarmel.com.
About Khaki's of Carmel
Khaki's of Carmel, a classic and contemporary modern men's clothing store, offers everything from tailored clothing to sportswear to the San Francisco/Carmel area. They are recognized as a renowned menswear specialist and one of the best men's stores in the United States. Their world class staff is passionate about clothing and they are dedicated to dressing men at their absolute best, which takes a discerning eye and the ability to comprehend the customer's lifestyle.
###