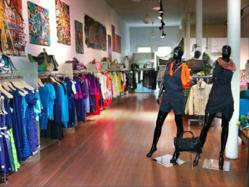 We will be providing tarot reading at our Haight Street store and possibly some other fun, live entertainment at our Valencia store
San Francisco, CA (PRWEB) October 21, 2011
Skunkfunk offers an innovative San Francisco clothing store experience like no other. Whether its cutting edge men's clothing, women's clothing, accessories, Skunkfunk is sure to have it in its own unique style. The store is world renowned and has three locations in the United States, two of which are in San Francisco. During the month of October, they will host two fun events for the public at these local stores.
The first happens October 23, when they celebrate "Sundays Streets in the Mission," which creates miles of car-free roads for people to get out and get active in diverse SF neighborhoods. The event will take place from 11 a.m. to 4 p.m.
The second event will take place over Halloween Weekend, Saturday, October 29-Monday, October 31. This event will take place at both their Valencia and Haight stores. They will be offering sample size pieces at deeply discounted prices throughout the weekend.
"We will be providing tarot reading at our Haight Street store and possibly some other fun, live entertainment at our Valencia store," says Kyle Retzik of Skunkfunk. "Come on out and enjoy these great events during October. We look forward to seeing you!"
For more information on Skunkfunk's San Francisco women's clothing contact them at 415-829-2899 for the Haight shop, 415-829-3298 for the Mission store, or visit them online at http://www.shopskunkfunk.com. Customers may also visit their online store at http://www.shopskunkfunk.com.
Skunkfunk has two locations in San Francisco, including 302 Valencia Street and 1475 Haight Street, as well as a location in New York City at 181 Orchard Street and locations throughout the world.
About Skunkfunk
Skunkfunk designs, manufactures, and sells innovative and unique San Francisco men's clothing and women's clothing, apparel and accessories. Since 1999, we have expanded from one t-shirt line to a wide range of collections. Over the years, as trends have come and gone, we have remained in close contact with our customers. We continually strive to deliver fresh, fun, and most of all, funky designs that are multifunctional and environmentally sustainable.
###