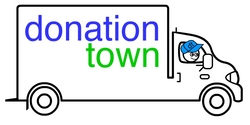 Donation Town is a valuable resource for finding charities that offer free donation pick up service throughout the United States and Canada.
Santa Monica, CA (PRWEB) July 13, 2010
A newly launched service, Donation Town, http://www.donationtown.org , connects people who want to donate clothes, furniture, toys and household items with hundreds of charities across the United States and Canada. When donors contact Donation Town, the organization responds with a list of local charities that will pick up those donations free of charge. Then Donation Town will help the donor schedule a donation pick up time. To make the process easier, donors don't even need to be there at the time of pick up. Charities will pick up the donations at the donor's home or place of business, and even leave a tax deductible receipt.
"Donation Town fills a huge need, both in terms of charities needing good, used clothes and household items and people needing a way to easily donate usable items," says Melissa Pifer of Donation Town. "People are really busy these days and time is at a premium. The free donation pick up service that these charities offer saves people the time and hassle of driving their donations to agencies or collection bins. Donation Town will help donors find a local charity in need of those specific items and schedule a free donation pick up. Whatever people want to donate -- toys, furniture, clothing or other household items -- we will do our best to make the connection."
Donation Town helps connect donors with charities in all 50 states across the U.S., but also matches donors with charities across Canada.
"Most people have items in their homes, garages or offices that are no longer used and just taking up space. It's now possible to eliminate clutter and make a difference in other people's lives at the same time by donating these items to local charities that need donations."
Donating is also an excellent way to reduce the carbon footprint by recycling used items, prolonging their usefulness and keeping them out of landfills.
There are more than 300 charities and local chapters now included in the Donation Town database and more are being added all the time. These include charities that benefit: the homeless, veterans, cancer research and treatment, children, humane societies, faith-based organizations, hospice, the disabled and many more good causes.
About Donation Town
Donation Town is supported by volunteers who are accountants, lawyers, bankers, teachers, ministers, stay-at-home moms, and many people passionate about giving back to their community. Everyone brings their unique talents and perspectives to the table in order to ensure that Donation Town is the best resource on the web for people wanting to donate furniture, clothing, toys and household goods to charity. Donation Town is free for all charities and all donors. All charities offering free donation pick up service are encouraged to join. Donation Town does not accept monetary donations – the organization exists to help charities and donors connect. For more information, visit http://www.donationtown.org.
# # #