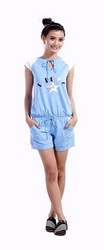 Viet Nam is now one of the top five garment exporters in the world. Last year, the country exported US$11.2 billion worth of goods. - Vietnambusiness.asia
(PRWEB) March 16, 2011
Vietnam knit clothing manufacturer launches their new website. Thaison S.P. Garment Factory in Vietnam has been manufacturing t-shirts, polo shirts, hoodies and sweats for 15 years. Now they are a Vietnam garment factory which is jumping on the e-marketing bandwagon. Check out Thaison S.P. Garment website to see the latest knitted garments they are producing.
Vietnam is becoming more attractive to knit wear garment buyers around the world because China is proving difficult to work with and prohibitively expensive. Labor costs in China are approaching $350 per month while in Vietnam they are still around $150 per month. Your typical Vietnam garment factory is easier to work with and has higher quality standard than China which is why many buyers are starting to take a closer look at Vietnam.
Thaison S.P. Vietnam Garment Factory is one of the few clothing manufacturers Vietnam using their website to aggressively find new customers by using search engine optimization, e-newsletters and pay-per-click advertising to get the word out worldwide.
Thaison S.P. Garment Factory in Vietnam was established in 1998 in Ho Chi Minh City. The company produces all kinds of knit wear, specializing in small quantity, difficult design men's, women's and kid's knitted garments: t-shirts, sweaters, blouses, hoodies, sweats, cardigans, pullovers jumpers, jerseys and sportswear. Thaison is designed to utilize the tried and true technology in knitted garments production in order to provide the right quality and short leading times for customers all around the world searching for clothing manufacturer Vietnam.
Contact Thaison Vietnam Garment Factory today!
http://www.vietnam-garment-factory.com/news-release.html
###