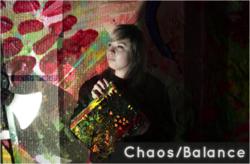 San Francisco, CA (Vocus/PRWEB) June 02, 2011
Fans of art and fashion are invited to San Francisco clothing store Skunkfunk SF on June 3rd, 2011 from 6 pm to 8 pm to see works by urban abstract artist Amanda Miller as part of Haight Street's monthly First Friday Art Walk.
The Haight Street First Friday Art Walk showcases works by the local Haight-Ashbury artistic community. Skunkfunk SF hosts a different artist each month to show their support for local art. This month they chose Miller, who specializes in urban abstract art: a contemporary art style heavily influenced by street art.
"My technique involves painting with pure emotion," said Miller. "I don't mimic any style. It's different. I'm different. I'm inspired: full of heart and ready to push the limits of unwanted boundaries. I'm not what I want to be, I'm not what I dream to be, but I'm also not what I was before.
"I paint a silent story using colors for words," said Miller. "I paint to embrace an uncontrolled freedom. I have had no schooling, just a craving for release."
The First Friday Art Walk in the Upper Haight features live DJs and bands, painting, book signings, discounted merchandise and unique art. Every month Skunkfunk SF features a different theme, and showcases independent young artists and unique artwork.
"Here in the Haight-Ashbury neighborhood you can still experience the psychedelic flavors of the '60s, when art and life where very much interconnected," said Fabiola Gironi, co-manager of Skunkfunk SF. "It's very exciting for us to participate in the Art Walk each month: to host an emerging artist and showcase their unique artwork. Skunkfunk SF blends art and fashion to make First Fridays, well, funky!"
For more information about Amanda Miller's First Friday Art Show or any of Skunkfunk SF's products, call them at (415) 692-7678, view them on the web at shop http://www.shopskunkfunk.com, or visit their store located at 1475 Haight Street in San Francisco.
About Skunkfunk SF
Skunkfunk SF is a Spanish-born San Francisco clothing store that specializes in environmentally-friendly women's, children's and men's clothing in San Francisco. Skunkfunk serves customers in San Francisco, New York City, various European cities, and online.
# # #