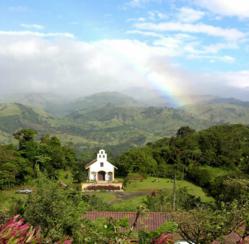 "Villa Blanca and it's family of Greentique staff, are pleased to receive a TripAdvisor Certificate of Excellence,"

Jim Damalas
San Ramon, Costa Rica (PRWEB) May 24, 2013
Villa Blanca Hotel & Nature Reserve today announced that it has received a TripAdvisor® Certificate of Excellence award. The accolade, which honors hospitality excellence, is given only to establishments that consistently achieve outstanding traveler reviews on TripAdvisor and is extended to qualifying businesses worldwide. Only the top-performing 10 percent of businesses listed on TripAdvisor receive this prestigious award.
To qualify for a Certificate of Excellence, businesses must maintain an overall rating of four or higher, out of a possible five, as reviewed by travelers on TripAdvisor, and must have been listed on TripAdvisor for at least 12 months. Additional criteria include the volume of reviews received within the last 12 months.
"Villa Blanca and its family of Greentique staff are pleased to receive a TripAdvisor Certificate of Excellence," said Jim Damalas of Greentique Hotels. "We strive to offer our customers a memorable experience and this accolade is evidence that our hard work is translating into positive reviews on TripAdvisor."
As a proud member of the Greentique Hotels brand of eco-friendly hotels, Villa Blanca looks forward to a tremendous 2013-14 and demonstrating that being green doesn't have to be a sacrifice of luxury. With an array of environmental and community accolades, Greentique Hotels anticipates an expansive future while remaining faithful to the original mission statement.
Greentique Hotels are committed to maintaining a high level of quality in their on-going projects, including organic green houses, production of Bocacchi (organic compost), and the use of laundry and cleaning products free of chlorine and other harmful chemicals. They also continue to invest in community awareness and education through workshops especially with elementary schools where the goal is to offer seamless, ubiquitous and easy to practice methods.
It is a continuous process of improvement, education and commitment to make the right choices in every aspect of Greentique's business wherever possible. The reward is helping sustain a country that the guests will recognize as an example of what is possible when respect for both people and nature becomes a national commitment as well as a personal choice.
For over 20 years, Greentique Hotels CEO and General Manager, Jim Damalas, has been commitment to protecting nature and developing responsible tourism. This is evident across the entire chain of hotels.
"TripAdvisor is delighted to celebrate the success of businesses around the globe, from Sydney to Chicago, Sao Paulo to Rome, which are consistently offering TripAdvisor travelers a great customer experience," said Alison Copus, Vice President of Marketing for TripAdvisor for Business. "The Certificate of Excellence award provides top performing establishments around the world the recognition they deserve, based on feedback from those who matter most – their customers."
Villa Blanca Cloud Forest Hotel & Nature Reserve is accredited as being one of Costa Rica's top destinations for everything from weddings and honeymoons to corporate events including workshops and presentations in their 40+ seat private THX theatre.
About Greentique Hotels
Established in March 2004, Greentique Hotels would soon become one of the major players on the global sustainability movement. Winner of countless international and national awards & recognitions, Greentique Hotels believes in sustainable "green" travel.
For more on Greentique visit their website at http://www.greentiquehotels.com.
Currently there are three GTH members in Costa Rica and they are:
Si Como No - http://www.sicomono.com
Villa Blanca - http://www.villablanca-costarica.com
Aguila de Osa - http://www.aguiladeosa.com