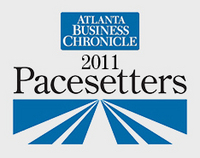 "We founded Cloud Sherpas because we believed that IT, although now delivered as a service, would continue to be sold, implemented and supported by a cadre of partners," --Michael Cohn, Founder and VP of Marketing at Cloud Sherpas
Atlanta, GA (PRWEB) April 26, 2011
Cloud Sherpas, the leading provider of Managed Google Apps Solutions and top Google Apps reseller, was awarded the Atlanta Business Chronicle's Pacesetter Award for significant company growth from 2008-2010, and was recognized as the fifth fastest-growing private company in Atlanta.
For the past 15 years, the Atlanta Business Chronicle has recognized Atlanta's 50 fastest-growing private companies with its Pacesetter Awards. To qualify, a company must demonstrate exceptional sales and employee growth from 2008 to 2010. Cloud Sherpas earned a top spot by growing sales over 12,000% and employee headcount over 650% during this period.
Cloud Sherpas was founded in 2008 as the distribution channel for cloud computing vendors was beginning to emerge. "For 30 years, two-thirds of IT has been purchased through a multi-tier channel of distributors, resellers, system integrators and software developers," said Michael Cohn, Founder and VP of Marketing at Cloud Sherpas. "We founded Cloud Sherpas because we believed that IT, although now delivered as a service via the Internet, would continue to be sold, implemented and supported by a cadre of partners."
Cloud Sherpas helps companies improve employee productivity and save money by adopting Google Apps for Business, Google's public cloud for messaging, collaboration and security. Cohn explained, "the downturn in the economy sparked interest in Google Apps because of the dramatic cost savings associated with moving this workload to the cloud." Cloud Sherpas customers typically realize 60-80% saving compared to legacy, on-premise email systems.
Since its inception, Cloud Sherpas has helped hundreds of companies and hundreds of thousands of end-users with their Google Apps migrations. In addition, nearly 3 million end-users in over 100 countries are using Cloud Sherpas' products, dubbed "SherpaTools for Google Apps."
"Once organizations migrate their e-mail infrastructure to Google Apps for Business, they often explore what else can be migrated to the cloud," said Cohn. Many companies are going beyond email, and replacing Sharepoint with collaborative solutions based on Google Docs and Google Sites, fueling Cloud Sherpas' expansion and growth.
The company plans to soon grow further into the Northeast, Midwest and the West Coast, and expand their current presence in Atlanta, Austin, Washington, D.C., Philadelphia and New York.
The Pacesetter Award came on the heels of another accolade: Michael Cohn, Eran Gil, and David Hoff, the co-founders of Cloud Sherpas, were awarded the "2011 Top Up-and-Coming Entrepreneur" award at the annual TiE-Vista ceremony on April 13, 2011. TiE, a 36,000-member international entrepreneurship organization, characterizes the award winners as "rising stars for all to watch."
About Cloud Sherpas
Cloud Sherpas (http://www.cloudsherpas.com) is the world's leading provider of Managed Google Apps solutions. As a Google Apps Authorized Reseller and leading Google Enterprise partner, Cloud Sherpas has migrated hundreds of thousands of users across all major industries from legacy, on-premises messaging systems to Google Apps and Google App Engine, helping organizations adopt cloud computing to innovate and dramatically reduce their IT expenses. SherpaTools for Google Apps (http://www.sherpatools.com) from Cloud Sherpas enhances the functionality and ease-of-use of Google Apps for both administrators and end-users.
###