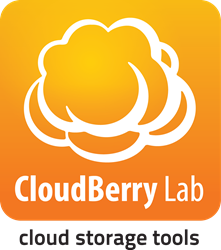 With AD Bridge we intended to help IT admins in fast and easy cloud storage to corporate network integration.
Newport Beach, California (PRWEB) September 04, 2013
CloudBerry Lab, a cloud data management solutions vendor for Amazon S3, Windows Azure and Rackspace Cloud Files, announces a release of CloudBerry AD Bridge, a solution to connect Amazon S3 account with Active Directory service in Windows domain networks.
CloudBerry AD Bridge was developed to simplify cloud storage deployment in corporate networks. By installing and configuring AD Bridge on one workstation or server in a domain network, system administrators can automatically provide AD users with a restricted access to a certain folder in Amazon S3 account such providing users with native access to AWS resources. CloudBerry AD Bridge hides the complexity of the configuration process allowing to deploy cloud storage as simply as Network Attached Storage (NAS).
The demand for storage has significantly increased over the past several years, placing significant changes to costs on building and maintaining "in house" storage. And here is where cloud storage services enter the picture.
Cloud data storage providers, such as Amazon S3, provide inexpensive, virtually unlimited data storage in remotely hosted facilities. Despite all the cloud storage advantages comparing to local file servers, Storage Area Networks (SAN) and Network Attached Storage (NAS), it can become a big challenge for system administrators to deploy and manage cloud storage access for each and every workstation and server in a corporate network. CloudBerry AD Bridge allows skipping time-consuming cloud storage access configuration for multiple users, including generating individual access and secret keys, assigning access rights and restrictions for each user.
CloudBerry AD Bridge in combination with CloudBerry Drive™ provides every authenticated AD user with preconfigured access to Amazon S3 account mapped as a network or external drive for fast and easy data access. CloudBerry Drive with AD Bridge makes cloud storage like a SAN that never runs out of space.
Quote:
Alexey Serkov, CTO at CloudBerry Lab
"We see that companies started to realize the convenience of cloud storage and we believe that it has great potential, especially for small businesses. Unlikely there is a lack of tools for cloud storage deployment making the whole process a big challenge for system administrators. With AD Bridge, we intended to help them in fast and easy cloud storage to corporate network integration."
Availability:
CloudBerry AD Bridge is a one-time purchase solution and available in packages with required number of connections/AD users:

10 connections package is available for $99.99
100 connections package is available for $499.99
250 connections package is available for $999.99
Fully functional 15-day trial is available for download at http://www.cloudberrylab.com/ad-bridge.aspx.
About CloudBerry Lab:
CloudBerry Lab was established in 2008 by a group of experienced IT professionals with the mission to help organizations in adopting cloud computing technologies by closing the gap between cloud vendor propositions and consumer needs through development of innovative low-costs solutions. CloudBerry Lab is an Amazon Web Services Advanced Technology Partner.