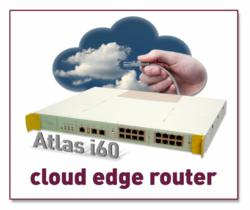 Teldat's innovative concept offers its users a huge reduction in cost, combining two devices in one (routing and applications)
Tres Cantos (Madrid) , Spain (PRWEB) November 28, 2012
A new whitepaper explains how a smart enterprise branch office access router, is creating a total shift in the concept of modern routing to date. The branch office access router market needs to follow the huge changes currently taking place within the IT and telecommunications worlds. Hence, more intelligent routers than those that the branch offices have been accustomed to are being demanded that work hand in hand with the cloud computing model, as well as other trends that affect the branch office scenario: a widening of the broadband, increased mobility and finally the outsourcing business model of the branch office operations.
In order to take advantage of these changes, Teldat has developed the Atlas i60 branch office access router, which is not "just another router", but meets those highly demanding requirements, with a value proposition that combines an enterprise-grade professional access router using, Teldat's 25 year tried and tested networking software stack, an embedded managed PoE LAN switch and an embedded application server/appliance. All of these on the same device, as well as a Software as a Service management platform. Together these four points, reduce the total cost of the branch office infrastructure, both on initial investment and operational costs.
Indeed, to extend on two of the above mentioned points, a key component of this proposition is the dual core processor of the device, which dedicates a full core to embed the Linux server/appliance running the applications themselves. Moreover, Teldat's public cloud "Service Platform" (SaaS) that wraps the equipment to offer life-cycle management of the applications for the users of the Teldat router, also gives the offer a huge competitive advantage.
The Teldat Atlas i60 is a unique piece of equipment on the market, as the traditional scenario has always been two different devices; one for routing and another dedicated to applications. Hence, Teldat's innovative concept offers its users a huge reduction in cost, combining two devices in one (routing and applications). Moreover, the dual core guarantees that performance of either function does not suffer whatsoever.
Another huge advantage of the Teldat Atlas i60 is the way in which the application server has been developed. It is totally open and has no locks in place as it is based on Linux. This means any user can develop its own applications to be placed on the Atlas i60 embedded server.
At the following link the reader can access the full whitepaper with details on all the points mentioned above. The document describes this huge shift in IT and telecommunications, the Atlas i60 access router and embedded application server itself, as well as the application scenarios and how Teldat can manage all this environment via the public cloud "Services Platform".
To date, Teldat offers six areas of applications: security, WAN optimization, telephony over IP, management of IT, green office and digital signage, as well as applications that have been developed by customers and 3rd parties themselves.
For more technical details and access to the Whitepaper please visit this page...
About Teldat
Teldat Group is a leading globally operating European technology holding that manufactures and commercializes advanced Internetworking platforms for corporate environments. During Teldat's more than twenty five years of experience as a telecommunications provider, more than 250,000 devices have been installed in 800 networks for some of the most demanding carriers and multinational corporations, including markets such as banking and finance, utility providers, transport, retails and government institutions.
Teldat is present in more than 35 countries across the globe, with Teldat offices in countries such as USA, Germany, Mexico and China, among others and expanding.
For more information please visit http://www.teldat.com