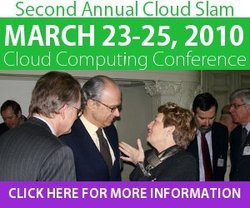 Meet Movers and Shakers of Cloud Computing
(PRWEB) December 15, 2009
The Cloud Slam Conference, which brings together leading companies and visionaries in business, technology, and cloud computing to showcase the hottest opportunities for driving profitability through sustainability, today announced call for proposals. Taking place March 23-25, 2010 as virtual event , the conference is also proud to announce it has gathered hundreds of attendees passionate about cloud computing. These announcements reflect a growing trend involving companies that have committed to developing best practice cloud strategies for the emerging global economy that requires innovative, viable and profitable models for business success.
You are cordially invited to participate in Cloud Slam 2010 through paper submission, a workshop or a special session organization, a tutorial, an invited speech, a demo, a poster, an exhibit, a panel discussion, whichever sounds more appropriate and convenient to you. There will also be tutorial sessions, workshops, special sessions, demos, posters, panel discussions. To get more information visit http://cloudslam10.com/content/call-proposals.
The conference will include invited presentations by experts from academia, industry, and government as well as contributed paper presentations describing original work on the current state of research cloud computing, their use in business, their design, performance and use, and their applications.
To encourage media coverage of the Cloud Slam 2010, the conference provides up to 2 free press credentials to verified media representatives from each organization. Media partnerships are also welcome, please send cross promotion proposals to media(at)cloudslam(dot)org.
Conference sponsorships are welcomed. To sponsor Cloud Slam or get additional information about event, contact Khazret Sapenov at 510-984-2312 or at sponsors(at)cloudslam(dot)org.
###