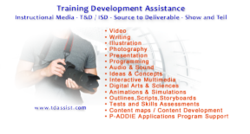 Unique ease and power of pragmatic creativity and cloud-collaborative ingenuity.
(PRWEB) August 28, 2012
TDAssist provides for cloud collaborations in broad-interest pragmatic creativity suited for professional and/or organizational performance enhancement, Training Development (T&D) and Instructional Systems Design (ISD) P-ADDIE task assistance. Enabled or supported are T&D-ISD; planning, ROI analysis, content design, research & development (R&D), production and effectiveness evaluation.
Cloud worksites provide secure file sharing, conferencing, and messaging for synchronous real-time viewing, editing and communication of project files advanced by independent asynchronous activities. Cloud-based project management, client variant, and/or content maps facilitate project: resourcing, planning, budgeting, scope monitoring, and task tracking.
Content maps as data-integrated production tools are used to simultaneously organize, communicate, and status T&D/ISD workflow. Advanced use assesses content ROI, profiles effort and time to transition source to finished deliverables, and semi-automates programming. Data subsets ease onsite photo and video planning, ID training content and media needs, tailor training guides, and encapsulates information for content; researchers, media developers, Subject Matter Experts (SMEs), programmers, Instructional Designers, and managers.
Refined during and after Fortune 100 application use, cloud workspaces served…
National Occupational Competency Testing Institute (NOCTI) - Mainly 2 person team, 1 full-time in virtual collaboration near 4 years with less than two days onsite to upgrade career blueprints, teacher and student guides, skills assessment graphics, and prototype online interactive tests. Blueprints referenced over 7,000 skill performance objectives, over 3,000 graphics reviewed with select new builds and edits to present over 100 career paths ranging from agriculture, business administration, finance, public and human services to Information Tech, arts, communications, manufacturing, transportation and others.
North Atlantic Treaty Organization (NATO) - Large scale primarily open-source toolset and cloud-based process enabled collaborative multi-national teams to contribute within NATO Partnership for Peace (PfP) membership. Cloud-craft practices resulted in 4,000+ users of a multilingual curriculum and course development model. A Learning Content Management System (LCMS) and content design-development-distribution process is in use by 22 countries for 11 subject areas ranging from International Law to Civil Military Affairs.
National Technology Transfer, Inc. (NTT) - Mainly 2 person team, 1 full time in cloud workspace 9 months with less than 2 weeks onsite. Engage Subject Matter Experts (SME) in virtual and onsite collaborations to advance stand-up standards-based electrical safety instruction to a 6 module interactive web course with knowledge assessments. Progressive releases of outline, content map, storyboard and course modules reflected cloud collaborations in content and media research, interactive programming, instructional build-up, Learning Management System (LMS) setup, and source-build-review-edit cycles of training content.
Cloud-crafts have also been used to extend features of a policies & procedures training database, support creative arts efforts, design and develop a job-aid and performance support knowledge-base, and produce various mixed-media courses in corporate universities and organizational training curriculums.
Industrial-age highways, factories, and offices to an extent are virtualized by information-age networks, purpose-equipped PC digital studios with commercial or open source office suites. Where management and staff meet in physical conference rooms to review, status, and discuss projects - remote attendees "in the cloud" via broadband connected PCs simultaneously review, status, hands-on digitally edit and plan instructional content.
Cloud workspaces introduce and foster productive relationships, focus project dedicated minds, spark and nurture creative thinking, and actualize client-relevant innovation. Regardless of whom, where, and how work is performed – human factors of skill, trust and quality effort remains essential. Collaborative project list, visual examples and entry-level cloud workspace sample are available from a Public Entrance at http://www.tdassist.com.