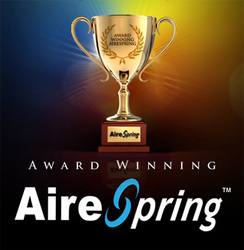 Besides our fully managed voice and data network, one of the great advantages of Airespring voice services is the adaptability of the product to the customer's current and future phone system.
Van Nuys, CA (PRWEB) March 14, 2011
Award winning managed telecom provider, AireSpring, today announced the launch of "AirePBX" its new cloud hosted IP PBX, bringing a powerful but affordable PBX solution to business customers nationwide. The service offers the same feature-rich functionality as AireSpring's popular Dymanic X SMB small business product, but with no hardware to buy, install, configure, host, or maintain. Customers will only need to maintain IP telephones.
One of the key advantages of AirePBX is that it is offered over Airespring's nationwide fully managed next generation IP backbone. In comparison to competitive offerings delivered over the public internet, Airespring's solution finally allows customers to have a hosted solution over an end to end managed network that fully controls voice quality issues that traditionally plague VOIP implementations.
AireSpring has simplified its services and pricing, offering Analog, SIP or PBX seats all at essentially the same price. Once a circuit is installed, the customer is future-proofed and able to quickly and easily upgrade from analog to IP connection or even to hosted PBX seats whenever they need to do so.
In addition to free Local, Interoffice Calling and optional Unlimited Long Distance, AirePBX offers Auto Attendant, Advanced Call Routing, Find Me - Follow Me, Caller ID, Call Forwarding, Call Parking, Call Recording, Call Transfer, Conferencing, Visual Voicemail, Three-way Calling, Toll Free Numbers, Virtual Extensions, Online Management Portal, and much more.
When launching the product at the Channel Partners EXPO in Las Vegas, AireSpring COO, Daniel Lonstein noted, "Besides our fully managed voice and data network, one of the great advantages of Airespring voice services is the adaptability of the product to the customer's current and future phone system. Because our next-generation voice network is all IP from the customer premise, we can easily convert a customer's connection from T1/PRI, analog or SIP trunking to hosted PBX seats without requiring a new installation. We like to call our voice services 'future-proof'. Our service is offered over the largest footprint in the industry, we can reach nearly every potential location in America. Affordability, features and AireSpring's legendary support make this a winning product from day one."
AireSpring has gained recognition as one of the most dynamic providers in the cutting edge IP space and AireSpring's Voice, Data, and Integrated products are continually recognized by customers and partners as robust, flexible, and affordable. Over the past several years, AireSpring has earned its reputation as the most highly awarded IP communications company. AireSpring consistently offers lowest cost High Speed Internet, Voice, and SIP Trunking services utilizing an award winning next generation enhanced IP network.
Telecom Agents, Resellers, Consultants, and customers looking for more information about AireSpring's products and/or partner programs should visit http://www.AireSpring.com.
About AireSpring
Headquartered in Los Angeles, award winning AireSpring is one of the fastest growing telecommunications carriers in the USA, with over 4 billion call records processed every year. AireSpring is a privately held, diversified, debt-free, and full service communications company which offers a broad range of innovative telecommunications services at competitive rates.
AireSpring offers next-generation voice, data, integrated, SIP/VoIP, and conferencing products designed to deliver power and flexibility at cost-effective rates. AireSpring has been voted "Product of the Year," "Best Telecom Deal," "Members Choice top reseller," "Top SIP Trunking Provider," and "Top Channel Program" in recent years. Telecom agents and Value Added Resellers can find more information about AireSpring's Agent/VAR program at the AireSpring Partner Contact Us page, or by contacting Todd Regan at (818) 786-8990, ext 374.
###