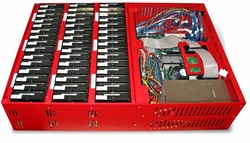 By providing this design to the community, we hope to drive the continued evolution of inexpensive, reliable storage.
Palo Alto, CA (PRWEB) September 1, 2009
Backblaze is open-sourcing its cloud storage hardware. After not being able to find sufficiently inexpensive storage systems or online storage services to support its $5 per month unlimited storage online backup service, the company ended up innovating its own. In order to drive continued innovation in the storage space, Backblaze is giving away the design for all who wish to use it. View the complete design at: http://www.backblaze.com/buildcloudstorage.
Backblaze automatically backs up all data from computers and any directly attached external drives.
As such, it stores significant amounts of data for each user and needed petabytes of storage to support its customers. Originally, the company intended to leverage a third party service for storage or to purchase equipment to store in its own datacenters. However, none of the systems available on market provided high-density, low-power, reliable, and inexpensive mass storage. Despite 1 terabyte drives being sold for approximately $150 at the time, storage systems were sold for over $1000 per terabyte.
After significant experimentation, Backblaze developed the Backblaze Storage Pod: a low-cost, reliable, 45 drive storage server. Currently, a single Backblaze Storage Pod stores 67 terabytes of storage and costs just $7,867 to build. Over a petabyte and half of these storage servers has been running for a year supporting Backblaze customers.
Today, Backblaze is giving the design of these storage pods away for free to anyone who chooses to build them. "Large scale, reliable storage is a critical building block for many companies," said Gleb Budman, CEO of Backblaze, "By providing this design to the community, we hope to drive the continued evolution of inexpensive, reliable storage."
Individuals and companies are welcome to leverage the design internally and for resale. Backblaze wishes for people to innovate on the design and contribute ideas back to the community, but there are no restrictions or requirements on its use. This design is provided with no support and no warranties.
About Backblaze
Founded by a team of serial entrepreneurs with security, scalability, usability backgrounds, and located in the heart of Silicon Valley, Backblaze's mission is to ensure that all computer data is backed up. Backblaze was selected as a winner of the AlwaysOn Global Top 250 private companies for game-changing technology and market value. Visit http://www.backblaze.com for more information or to backup your own computer.
###