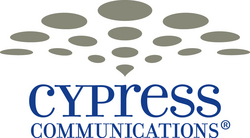 Increasingly, law firms are turning to cloud communications because of its proven ability to effectively facilitate staff interaction and collaboration, while lowering costs
Atlanta, GA (Vocus) August 18, 2010
Cypress Communications® will be exhibiting at ILTA 2010, the International Legal Technology Association's technology conference and demonstrating its newest IP communication solutions. Featuring the award-winning C4 IP® cloud-based unified communications solution, Cypress' booth will be the premier place for legal professionals to learn about the features and benefits of hosted VoIP and cloud-based unified communications.
"The ability to respond quickly and reach the right people at the right time is crucial for a law firm. Lawyers and their support staff need to be able to communicate with their clients anywhere, at anytime. Increasingly, law firms are turning to cloud communications because of its proven ability to effectively facilitate staff interaction and collaboration, while lowering costs," said Frank Grillo, executive vice president of implementation, support and marketing for Cypress Communications. "Cypress' C4 IP cloud-based communications have been well received by CIOs; it presents a customizable, scalable solution that can provide law firms with advanced communications and collaboration abilities while lowering their total telecommunications spend."
Named for its ability to help small-to-medium enterprises (SMEs) connect, communicate, collaborate and continue®, C4 IP is a cloud-based VoIP and unified communications solution that is managed from Cypress' private network to the phone on each desk. With integrated voice and data services, desktop and soft phones, and advanced collaboration functionality, C4 IP offers a comprehensive solution that can be tailored to fit the needs of each individual user. C4 IP provides anywhere, anytime communications with mobility-supporting features such as find-me/follow-me, advanced call routing, audio and web conferencing, unified messaging, presence, secure instant messaging and file sharing. While callers may simply dial the user's office phone number, the C4 IP user can use any phone, in any location as their office phone, and conversations appear to be taking place at their office desk.
Because the Cypress solutions are cloud-based, hosted and managed by Cypress, law firms can benefit from a premium unified communications experience without the hassles of owning and maintaining an in-house solution. Law firms avoid upfront capital expenditures, ongoing maintenance costs and inevitable technological obsolescence. Cypress owns all of the equipment and manages C4 IP from its robust network cloud to the phone on each desk, so firms pay a single monthly fee and avoid devoting internal IT staff to managing the solution.
ILTA 2010 will be held August 22-26 at the ARIA Resort and Casino in Las Vegas and will provide educational opportunities for law firm IT departments and facilitate discussions among law firm technology leaders where they can share their successes and experiences with their peers. Cypress will demonstrate its cloud-based unified communications to law firm attendees at booth #824.
About Cypress Communications
For over 25 years, Cypress Communications has been helping small-to-medium enterprises (SMEs) connect, communicate, collaborate and continue® with a range of fully hosted and managed voice, data and Internet solutions. Beginning in 2006, Cypress revolutionized the communications industry with its hosted VoIP and hosted unified communications solution, C4 IP, making it easy for SMEs to take advantage of productivity-enhancing technology such as integrated audio and web conferencing, multimedia collaboration tools, presence, chat, Microsoft® Outlook integration, and more. As a Deloitte Fast 50 and Fast 500 award recipient, Cypress is recognized as one of the fastest growing telecommunication companies in North America. In 2008, the company was named one of Atlanta's Best Places to Work. Cypress has won a total of 26 awards for excellence and product innovation. The company's Web address is http://www.cypresscom.net.
To learn more about hosted unified communications, visit the company's UC 360 blog at http://blog.tmcnet.com/uc-360.
For more information, contact:
Heather Whitt Roberts
Cypress Communications
404-442-0034
hwhitt(at)cypresscom(dot)net
© 2006-2010 Cypress Communications, Inc. The Cypress Communications logo is a registered service mark of Cypress Communications, Inc. C4 IP and Connect. Communicate. Collaborate and Continue are registered trademarks of Cypress Communications. C4 Office and C3 IP are trademarks of Cypress Communications, Inc. All other marks used herein are the property of their respective owners.
# # #