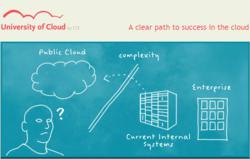 "Through our University of Cloud programs we offer IT professionals access to industry leading Cloud Computing vendors, platforms, and thought-leaders, with superior courses tailored to meet growing demands in the Cloud" - Stefan Hetges, CEO, CTE
Cambridge, MA (PRWEB) July 05, 2011
Cambridge Technology Enterprises (NSE: CTE) a leader in enterprise modernization, Cloud enablement and Management Services and Information Technology training initiatives, today announced the launch of its new Cloud Computing training program – The University of Cloud (UoC). The inauguration of this educational program reflects CTE's deep focus and expertise in Cloud-based technologies, with successes managing mission-critical Cloud-based applications for Fortune 500 organizations and top-tier ISVs worldwide.
For over a decade, Q-soft – now part of CTE, has pioneered award winning computer education training programs in several technologies including Oracle, Microsoft and NetApp solutions. Drawing on the company's strong partnerships with recognized industry leaders in Cloud Computing, CTE's Cloud training initiative will also connect participants with an elite global network of Cloud researchers, thought-leaders and partners in education, who will provide comprehensive course offerings, seminars and workshops across UoC's global campuses and classrooms. The program will establish an international forum for innovation, research, and collaboration in Cloud Computing advancements and breakthroughs, and a platform for developing skills and sharing industry best practices.
With well-structured training programs that focus on specific areas of Cloud Computing characteristics, architectures, and the Cloud's impact on system design, each UoC course progresses incrementally in complexity and can be taken individually or in consecutive sequence. Course offerings cater to Cloud novices, experienced System Administrators, and Software Architects, with offerings ranging from basic to advanced courses on The Amazon Cloud Computing Platform and Architecture Training, to the Cloud Overview for Senior Level Executives - a unique program designed to prepare senior professionals with cloud readiness assessments and cloud enablement practices for their organizations.
The shift towards Cloud Computing is currently dominating the IT industry, with companies from Fortune 500 organizations to small and mid-size businesses, investing billions of dollars into this explosive new technology. With IT leaders eager to introduce the latest initiatives, while simplifying their current IT environments, decreasing complexity, lowering CAPEX and enhancing overall business value, Cloud Computing innovations and technologies are being readily embraced. According to new research from International Data Corporation (IDC), worldwide revenue from public IT cloud services is forecast to reach $55.5 billion in 2014, and hiring and training in Cloud Computing expected to soar.
"With the widespread adoption of Cloud Computing technologies, there is a rising need for highly skilled IT talent with Cloud Computing know-how. Through our University of Cloud programs we offer IT professionals access to industry leading Cloud Computing vendors, platforms, and thought-leaders, with superior courses tailored to meet growing demands in the Cloud," said Stefan Hetges, CEO of CTE.
"As a leader in IT education solutions, and with extensive field experience - having worked with Amazon Web Services, the leading Cloud Computing vendor in the world, on hundreds of successful Cloud based deployments, with thousands of Cloud-based services currently running – we have designed unique programs that provide in-depth experience working with Cloud based technologies," added Arjun Chopra, CTO of CTE. "Participants gain unprecedented exposure to the latest innovations in the Cloud and have hands-on learning opportunities, as we offer them the chance to work directly on the AWS platform."
For more information on University of Cloud, CTE's courses in Cloud Computing and enrollment options please visit http://www.universityofcloud.com or http://www.ctepl.com.
About Cambridge Technology Enterprises
Cambridge Technology Enterprises (NSE: CTE) is a global business and technology services company. Recognized as a thought leader and innovator of enterprise modernization services, CTE solutions improve business performance and provide clients with a compelling competitive advantage. CTE services include Cloud Enablement Services, Transformation to Cloud Infrastructure, solutions in support of SAP® applications, IT Modernization and Enterprise Solutions ranging application development, IT training and business process outsourcing services. CTE customers are major global commercial and government organizations such Vodafone, AIG, Pfizer, State Bank of India and US government agencies. CTE leverages world-class talent, proven tools and methodologies and global development centers to provide highly innovative and competitive solutions. For more information, please visit http://www.ctepl.com.
"Amazon", "Amazon Web Services", "AWS", "Amazon EC2", "EC2", "Amazon Elastic Compute Cloud", "Amazon Simple Queue Service", and other AWS service names are trademarks or registered trademarks of Amazon Web Services LLC.
###