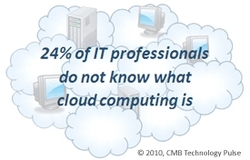 With so many big players like Microsoft, EMC and even Google putting heavy investments into the value of the cloud, the confusion will go away and the value proposition will become clear
Boston, MA (Vocus) February 8, 2010
A recent study of close to 300 IT professionals by Chadwick Martin Bailey (CMB), a custom market research and consulting firm, indicates there is still quite a bit of confusion around the definition of cloud computing. When asked to define cloud computing, many IT decision makers defined it as SaaS, a hosted or managed service or a form of outsourcing. There were 24% who were not able to define cloud computing at all.
"With so many big players like Microsoft, EMC and even Google putting heavy investments into the value of the cloud, the confusion will go away and the value proposition will become clear," comments Don Ryan Managing Director of CMB's Technology practice. "The key to success for providers will be their ability to address issues such as security and privacy."
This research was done as part of CMB's Tech Pulse, which provides free insights on key technology topics on a quarterly basis. Other recent topics have included Netbooks and Windows 7 adoption. The data for the Tech Pulse is gathered from interviews conducted among IT decision makers using CMB's own Enterprise IT Panel. The full findings from this report on cloud computing can be downloaded free of charge.
About Chadwick Martin Bailey:
Chadwick Martin Bailey is a Honomichl Top 50 ranked custom market research and consulting firm working with many of the most successful companies and best known brands in the world to help them acquire, maintain, and grow their customer base. Founded in 1984 by John Martin and Anne Bailey Berman, the company has corporate headquarters in Boston, Massachusetts, serving clients in more than 30 countries around the globe. Chadwick Martin Bailey focuses on using leading-edge research techniques to collect and translate the data into simple, business decision-focused deliverables. (http://www.cmbinfo.com)
###