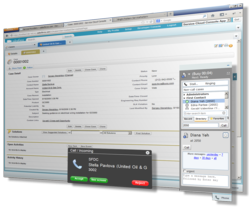 ServicePattern is the fusion of voice and customer service applications.
San Bruno, CA (PRWEB) January 31, 2013
Bright Pattern, Inc., provider of the ServicePattern™ next-generation cloud-based contact center solution, has brought communications to CRM as they announced simple and seamless integration with salesforce.com and the force.com platform. The new combined solution allows organizations to maintain a complete view of customer activity and communicate with their customers the way that they choose, such as phone or web chat.
With the ServicePattern / salesforce.com integration, businesses can give their customers the convenience of self-service, while service agents enjoy a streamlined and convenient combined user interface. The application activates quickly and easily, allowing businesses to increase sales and customer satisfaction without over-burdening IT.
"ServicePattern is the fusion of voice and customer service applications. Since salesforce.com is the market leader for CRM, this integration is a natural for our API program. With it, we finally deliver the 360-degree view that customers are looking for," said Konstantin Kishinsky, CEO and co-founder of Bright Pattern. "This can help in so many ways; boosting productivity, increasing customer satisfaction, and helping to reduce costs."
Highlights of the integration with force.com include:

It is a pre-packaged installation; no custom code is needed
Single sign-on saves time and means fewer passwords to memorize
Customer information pops up when a call comes in
Integration saves time and reduces errors, such as when dialing out
Ability to prioritize incoming queue based on SFDC data, such as customer status or revenue potential
Supports included softphone browser plugin or SIP phone or any PSTN number for calls
"The future of customer service lies in having a 360-degree view of the customer" said Esteban Kolsky, founder of thinkJar – a customer strategies advisory firm. "The advent of the cloud demands public platforms that deliver integration, performance, scalability, and services to ensure the 360-degree view of the customer. Vendors that cannot deliver this don't offer compelling enough solutions"
The integration, developed and delivered as part of the ServicePattern API program, is available immediately. Interested parties can request demonstrations of the functionality at http://www.brightpattern.com/request-demo/.
"We are a heavy salesforce.com supporter. Agents struggle when call center technologies and CRM aren't integrated," said Mary Cook, COO at CallSocket. "The ServicePattern / salesforce.com integration will make agents more productive because they won't have to continually toggle between applications...and even more importantly they can close more sales and satisfy more customers because they have access to all of the information they need in one seamless application."
About Bright Pattern
Say goodbye to overly complex and costly contact center infrastructure. Bright Pattern offers the next generation of cloud-based contact center and customer service management solutions. With flip-the-switch activation, you can deploy in days and make changes in minutes. As a multichannel, unified full-featured end-to-end solution, the ServicePattern™ platform helps you manage the complete life cycle of customer service and economically improve customer experience. Architected from the ground up as a cloud-based service, Bright Pattern offers the right blend of enterprise-grade functionality, reliability, and scalability not available in the industry. For more information, visit http://www.brightpattern.com.