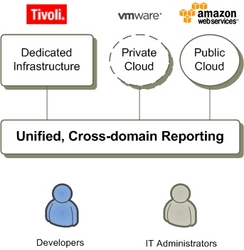 Cloud computing gold rush is only going to intensify. We want to make sure Amazon Web Services customers use the best available instrumentation when it comes to performance analysis and capacity planning.
Cupertino, CA (PRWEB) July 22, 2010
Axibase Corporation, provider of capacity planning and performance analysis solutions for the enterprise IT, announced today the release of Axibase Cloud Reporter for Amazon Web Services (AWS). Axibase Cloud Reporter is the first industrial-grade cloud reporting product that addresses the rapidly growing demand for managing public cloud resources by enterprise IT users.
The new offering is priced at $0.015 per machine/hour and is available for all Amazon Web Service customers effective immediately at http://www.axibase.com/cloud
By leveraging hypervisor-level statistics Axibase Cloud Reporter delivers AWS developers and application owners reliable and actionable reports across web, application, database and compute tiers. The value-added features included in the inaugural release include the ability to scale retention to 5 years of historical data across EC2, EBS, ELB and RDS services as well as the stateful tracking of any changes to the customer's Amazon environment for compliance and audit purposes.
"We've been told that capacity planning does not apply to public clouds since you can easily add or remove capacity on the fly. This may be true for composite applications that are scalable horizontally across all tiers. The fact of life is that the majority of enterprise application are not built that way. Cloud or not, someone needs to ensure that the application is going to make it through the next quarter," said Sergei Rodionov, Founder and CEO of Axibase. "The company is dedicating substantial resources to make sure that our integration with AWS is very tight and our objective for Axibase Cloud Reporter is to become the preferred reporting solution for AWS users."
About Axibase Corporation.
Founded in 2004, Axibase is a proven leader in performance analysis and capacity planning for the enterprise. The company's customers include the world's leading companies and service providers such as CSC, NetApp, ING Bank, Suncorp, Experian, State of New Jersey OIT.
###