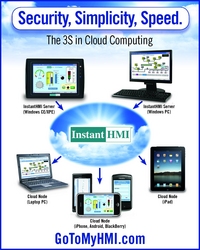 North Billerica, MA (PRWEB) November 10, 2010
Software Horizons announces GoToMyHMI (tm) cloud based SAAS service, which enables Human Machine Interface (HMI) monitoring and control access from any browser enabled device including iPad, iPhone, Smartphone and Laptop. GoToMyHMI implements an HMI-Gateway incorporating 256 bit encryption technology to provide safe, secure and speedy access to HMI information from anywhere. With nothing to download or plug in, setup and connecting is easy and fast!
The GoToMyHMI service provides secure access from any web browser costs as low as $50 per month. Users may select from three levels of GoToMyHMI service that allows them to:

Monitor HMI Screens
Monitor HMI Screens, Access and Acknowledge Alarms
Monitor HMI Screens, Access and Acknowledge Alarms, and perform Remote Control
If an alarm is generated, InstantHMI can email the operator, alerting him to the condition. The operator can then take immediate action from any web browser or Smartphone, saving his company time and money. A Water District Manager can monitor the entire water control system from anywhere in the town. A Factory Manager can check the status of the production line from the plant floor, his office, or from home while drinking his cup of coffee.
GoToMyHMI can be configured without making any changes to existing in-plant HMI or SCADA system using Software Horizons' InstantHMI development tools. All GoToMyHMI user access information, passwords and access logs are managed by the company's administrator for complete security control.
GoToMyHMI is the latest component of the InstantHMI® Development platform. Using InstantHMI you can develop and deploy HMI projects for use on Desktop PCs, Touch Panels, handheld PDAs and Smartphones. With hundred plus drivers available, InstantHMI connects to PLCs from Allen Bradley, Siemens, GE Fanuc, Automation Direct, Koyo and many more. Our language plug-in module allows InstantHMI project development in any language for true world wide deployment.
For a free live demo of GoToMyHMI connected to an InstantHMI Server and PLC, visit our secure web site http://www.GoToMyHMI.com .
About Software Horizons Inc.
Software Horizons Inc., founded in Massachusetts in 1983, focuses on developing Multi-Platform HMI / SCADA products which run on Desktop PCs, Touch Panels, or handheld PDAs and Smartphones. Our worldwide network of partners is ready to assist customers with the installation, set up, and programming of Cloud-ready InstantHMI and GoToMyHMI cloud services in Any Language, Anywhere!
InstantHMI is a registered trademark, and GoToMyHMI and HMI-Gateway are trademarks of Software Horizons Inc
###