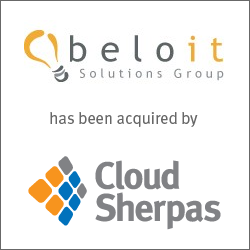 This is a great move for Cloud Sherpas that fits perfectly into our strategy to grow the business organically and through acquisition.
Atlanta, GA (PRWEB) June 27, 2011
Cloud Sherpas, a top Google partner for helping business customers adopt the Google Apps™ cloud platform, has acquired Beloit Solutions Group; terms were not disclosed. Last month Cloud Sherpas acquired San Francisco-based Omnetic, extending the company's presence on the West Coast. The acquisition of Beloit, based in Overland Park, Kansas, strengthens Cloud Sherpas' position in another key market, the Midwest, a region dominated by large enterprises, and long considered to be "Microsoft country."
"This is a great move for Cloud Sherpas that fits perfectly into our strategy to grow the business organically and through acquisition," said Jon Hallett, CEO for Cloud Sherpas. "Beloit gives us top sales and IT management talent, more Google Apps Certified Deployment Specialists, fantastic customers, and thousands of additional managed Google Apps seats."
Google Apps is the leading cloud email and collaboration platform for business, and Cloud Sherpas is a preeminent Google Apps reseller and solutions provider. With the addition of Beloit, Cloud Sherpas has now migrated over one million business "seats" to the Google Apps cloud platform.
Beloit was founded in 2006 by Mike Thiessen, who was president of staffing and recruiting consulting firm VistaConnections, and enterprise application specialist, Tim Lockyear, formerly a senior manager for Sprint. Beloit has accumulated tens of thousands of Google Apps users in the Midwest and nationally since joining the Google Apps partner program. Its top customers include Cosentino's Food Stores and the Midwest Air Traffic Control Systems.
"Mike and Tim have built a tremendous business," said Hallett. "They've sold large accounts, which will be key for us as we target Microsoft enterprise customers in the Midwest. They also have deep technical skills and impressive business acumen, making them important long-term assets for Cloud Sherpas. We're excited to bring the entire Beloit team into the Cloud Sherpas fold, as we aim to work more closely with Google sales reps throughout the Midwest region."
"This is a great transaction for Beloit's founders and investors, and a big win for our customers," said Thiessen. "Beloit clients in the Midwest and nationally will benefit from the support of a larger and deeper organization, with even more experience helping companies of all sizes use and succeed with Google Apps. We're very proud to have served so many terrific companies. But the time is right to align with a firm that we believe will be the major Google Apps reseller and solution provider for many years to come."
About Cloud Sherpas
Cloud Sherpas (cloudsherpas.com) is a leading Google Apps cloud services provider. As a Google Apps Authorized Reseller and leading Google Enterprise partner, Cloud Sherpas has migrated over one million users across all major industries from legacy, on-premises messaging systems to Google Apps and Google App Engine, helping organizations adopt cloud computing to innovate and dramatically reduce their IT expenses. SherpaTools for Google Apps (sherpatools.com) from Cloud Sherpas enhances the functionality and ease-of-use of Google Apps for both administrators and end-users.
###