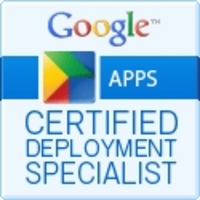 "As we continue to build out our global Google Apps practice, it is essential for us to differentiate ourselves and to gain recognition for the great depth of Apps expertise we have developed with so many customers." -- Jon Hallett, CEO, Cloud Sherpas
Atlanta, GA (PRWEB) February 24, 2011
Cloud Sherpas, a leading Google Apps Reseller and Google Apps Consultant, today announced that five of their Google Apps deployment specialists have been certified through Google's new Google Apps Certification Program. The requirements are extensive, as only 100 IT professionals worldwide were certified during this beta test period. Additionally, certificate holders must be re-certified each year due to the dynamic nature of the Google Apps platform. The certification of their deployment specialists is further verification that Cloud Sherpas is among the leaders in the Google Enterprise and Google Apps Authorized Reseller communities.
Google launched the Google Apps Certification Program today, which recognizes IT professionals who have demonstrated the ability to sell, deploy, develop, and support Google Apps. The first of these certifications, the Google Apps Certified Deployment Specialist, certifies IT professionals who have demonstrated the expertise and skills required to migrate to, configure, and deploy Google Apps.
Jon Hallett, CEO and Chairman of Cloud Sherpas, had a few words on the program, "As we continue to build out our global Google Apps practice, it is essential for us to differentiate ourselves and to gain recognition for the great depth of Apps expertise we have developed with so many customers. The Google Apps Certification Program will help generate new client interest by highlighting our commitment to offering the highest-value consulting services to the market."
The Google Enterprise partner community has more than doubled over the past year, and now consists of over 2,500 Google Apps Authorized Resellers in over 70 countries. As a customer contemplating the move to Google Apps, its important to know that you are working with top-notch consultants and Google Enterprise partners that have complex deployment experience moving data from a variety of legacy platforms and environments. The Google Apps Certification Program provides this level of assurance.
Many more members of Cloud Sherpas' Professional Services team are working towards achieving Certified Deployment Specialist status as well, with the goal of having the entire deployment team certified. As Google Enterprise makes new certifications available through the program, other members of the Cloud Sherpas team will become certified, and "the development area is probably our next heavy focus", according to VP of Technology David Hoff.
Cloud Sherpas looks forward to continuing to provide the highest-value consulting services in the Google Enterprise partner community. The company continues to move companies onto the Google Apps platform, helping more and more businesses realize the benefits of Going Google.
About Cloud Sherpas
Cloud Sherpas (http://www.cloudsherpas.com) is a cloud computing systems integrator and application developer. As a Google Apps Authorized Reseller and leading Google Enterprise partner, we have migrated hundreds of thousands of users from legacy, on-premise messaging systems to Google Apps and Google App Engine, helping organizations adopt cloud computing to innovate and dramatically reduce their IT expenses. SherpaTools for Google Apps (http://www.sherpatools.com) is a free app from Cloud Sherpas that enhances the functionality and ease-of-use of Google Apps for both administrators and end-users.
# # #